DESIGN THINKING STARTER PACK
About this event
Design Thinking is an innovation methodology, a collaborative way of working and, more broadly, a mindset. Learn the foundations of Design Thinking and embrace innovation, creativity and collaboration to generate and experiment with new ideas, especially in times of uncertainty and ambiguity. This course will help you train your innovation muscles and embrace Business as Unusual while helping your teams do their best work.
Lesson 1: understanding and engaging with the bigger picture
Lesson 2: defining a reframed point of view
Lesson 3: crafting new solutions through experimentation
!!!Bonus!!! Mentoring Session: we understand the importance of consolidating new learnings before jumping back into our business realia, so we will spend our last lesson discussing the learnings and addressing all the questions.
What will you get out of this:
A solid introduction to Design Thinking Methodology
Method Lab: exploring main tools & frameworks for innovation
Templates and Canvases to use anywhere you need them
Mastering virtual collaboration tools (MURAL)
And maybe, just maybe, some new friends? 😊
We are Rita and Anastasia and we will be facilitating your journey!
Visit our Linkedin Profiles to ask any questions you might have.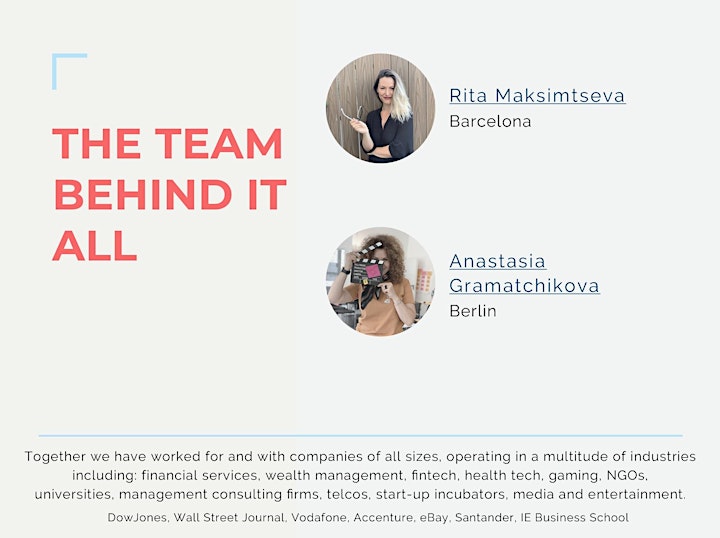 Organiser of Online Programme: Design Thinking Starter Pack
RAN Studios is an innovation consultancy with team in Berlin and Barcelona providing services for academic and corporate clients to help with organisational transformation and capability building. We leverage creative leadership, collaborative co-creation, psychology, user-centered design and design thinking to improve existing situations into better ones.