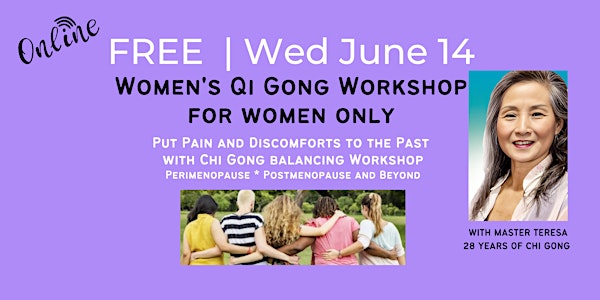 Online: Put Discomforts and Pain to the Past - Women's Chi Gong
Revive Your Energy with Chi Gong - Women Only
By Pureland International Qi Gong
Date and time
Wed, Jun 14, 2023 4:30 PM - 6:00 PM PDT
About this event
1 hour 30 minutes

Mobile eTicket
Hi,
Put pain and discomfort in the past with Chi Gong.
Are you a woman struggling with pre, menopause, postmenopausal transition, and beyond?
You are experiencing tightness, discomfort, aches, pain, mood swings, sweating, irritation and/or pain as your body is going through changes.
Your Mission – should you choose to accept it –
is to develop a 20-minute daily customized, advanced Qi Gong practice for women to reduce the intensity of any uncomfortable feelings, flush out the bad energies of the body, and bring in the good so you can feel energized, relaxed, and feel the joy of life again!
Welcome to our plan for you, where we aim to introduce you to the wonderful world of Chi Gong practice and external healing, specifically addressing women's needs. Our program is designed to bring together like-minded women who are interested in growing and healing with the power of Chi Gong.
Our program will include a slideshow presentation where you will learn about the fundamentals of Chi Gong practice and how it can be used to address specific health concerns that women may face. Our presentation will be led by a knowledgeable and experienced Chi Gong Master Teresa who will provide insights into the benefits of this ancient practice simplified for the 21st century.
In addition to the presentation, you will have the opportunity to participate in a Chi Gong practice session that is tailored to meet the specific needs of women. The practice will focus on cultivating and directing energy to promote healing and wellness. Through this practice, you will learn techniques to help manage stress, balance emotions, and improve overall health.
Furthermore, our program is designed to connect you with a supportive community of women who share your interests in growing and healing through Chi Gong practice. You will have the opportunity to meet and interact with other women who are on the same journey, creating a powerful and uplifting environment that is conducive to healing and growth.
In conclusion, our plan for you is designed to introduce you to the powerful practice of Chi Gong and external healing. You will learn directly from a Chi Gong Master and receive some Chi healing to promote relaxation and balance in your body and mind.
For you information, there will be a 6-weekly classes coming after this workshop which also like to invite you to consider joining. Students joining this workshop will receive a Bonus and Discount for future classes.
We look forward to welcoming you to our community of like-minded women who are committed to growing and healing together.
Master Teresa
This is Master Teresa, 3-time #1 International Award Winning Bestselling Author, speaker and healer. I overcame her own health issues and personal struggles to raise my three children as a single mother; founded two distinguished Chi Gong schools: Pureland International Qi Gong and The Seventh Happiness School of Chi Gong, while continuing the legacy of my teacher Grandmaster Wu's Chi Gong lineage.  He is the creator of Wu's Eye Qi Gong® which has successfully helped millions of people worldwide. In addition, she is a continuing education professional development activity (PDA) provider of the U.S.A. National Certification Commission for Acupuncturists and Oriental Medicine (NCCAOM).
Testimonials
- my (COVID19) head and chest congestion felt so much better afterwards
- Master Teresa opened the heart chakra for which I had closed for a long time due to a broken heart. My soul feels 1000 lbs lighter.
- Master Teresa was gentle and patient. She was able to help bring some healing. Her words of positive encouragement will stay with me.
- Master Teresa is a thoughtful, compassionate healer that takes the proper time and care to help show me how to heal myself using Qigong. I am so grateful, thank you so much!
- Master Teresa is a gifted and powerful healer. She has an uncanny ability to tap into your energy and "know" exactly what's wrong, and distance makes no difference. For several years, I've been blessed to receive many of her treatments and the wisdom that accompanies them.
- If you truly want to change any and all aspects of your life, you will be deeply grateful that you said "Yes!" to working with Master Teresa. Qi Gong does not only heal your body, mind and spirit, it brings balance and harmony to all aspects of your life - your work, your family and relationships.
- Fabulous! Master Teresa is a gifted healer and I am fortunate to have found her. I would highly recommend a session with her to anyone looking for healing.
About the organizer
Learn the Original Qi Gong from a Generational Master 
Master Teresa Yeung is the founder of Pureland International Qi Gong, a certified private institution of Canada.  Master Yeung is an internationally recognized modern Chi Gong Master, speaker, healer, thought leader and  3-time #1 international award winning bestselling author.  She is the founder of Pureland International Qi Gong , a certified private institution. She is the successor of Grandmaster Weizhao Wu's lineage. Wu was a distinquished Chi Gong master, educator and creator of the highly successful Wu's Eye Qi Gong helped millions of people.  You can visit her website at www.purelandqigong.com