Sales Have Ended
Ticket sales have ended
This is event is currently over. For more information on what Farm Radio International is doing to respond to COVID-19 across Africa, please visit www.farmradio.org/covid
Sales Have Ended
Ticket sales have ended
This is event is currently over. For more information on what Farm Radio International is doing to respond to COVID-19 across Africa, please visit www.farmradio.org/covid
In times of crisis, we count on radio. Join our panel on the critical role radio is playing during the COVID-19 pandemic in Africa.
About this Event
Join us on Thursday, April 30, for a special town hall about the important role of broadcasters in Africa during COVID-19.
Never has Farm Radio International's role been more vital. Those living in vulnerable communities in Africa need reliable information to keep themselves and their loved ones safe — and to stay in touch with the world when they are isolated at home.
Join us for a special online Town Hall event where we explore our ongoing work on empowering radio journalists to deliver critical information on COVID-19 to millions of listeners across the African continent.
CBC's Nora Young will moderate an engaging discussion about the challenges radio broadcasters are currently facing during this pandemic. She will be joined by a broadcaster and Farm Radio staff currently working on the ground.
We're also raising funds to support our new Rapid Emergency Fund. More than ever, radio stations in Africa need support in order to continue to air important, fact-checked information to listeners. The fund will allow stations to continue to deliver exceptional communication efforts to underserved communities while they are needed most.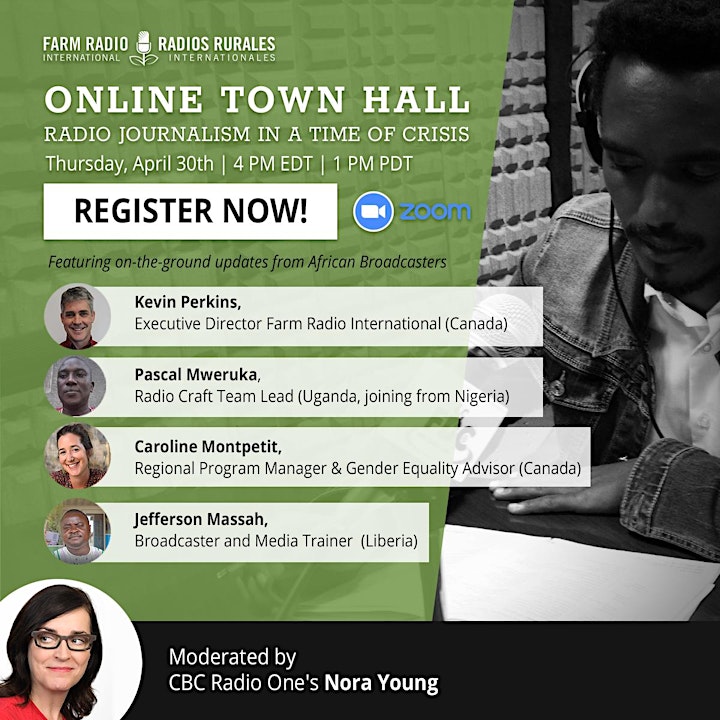 ---------------
Joining us for the Town Hall will be:
Kevin Perkins, Farm Radio International Executive Director
Pascal Mweruka, Radio Craft Team Lead, Anglophone Africa. Pascal, based in Uganda and currently working in Nigeria, co-heads the team that trains radio stations and ensures radio quality in our projects.
Emmanuel Asamoah, Program Manager at Radio 1 in New Nsutam, Ghana. Emmanuel is currently running programs about COVID-19 — and using Farm Radio resources to do so.
Jefferson Massah, Broadcaster and Media Trainer. Jefferson is based in Monrovia, Liberia where he is working with a network of 30 radio stations to respond to COVID-19. He has extensive experience broadcasting in pandemics due to his award-winning coverage during the Ebola crisis.
Caroline Montpetit, Regional Program Manager, West Africa & Gender Equality Advisor. Caroline heads our program work in West Africa, and brings a strong gender lens to our work.
Moderator: CBC's Nora Young. Nora Young is the host and the creator of Spark, CBC's national radio show and podcast about technology and culture.