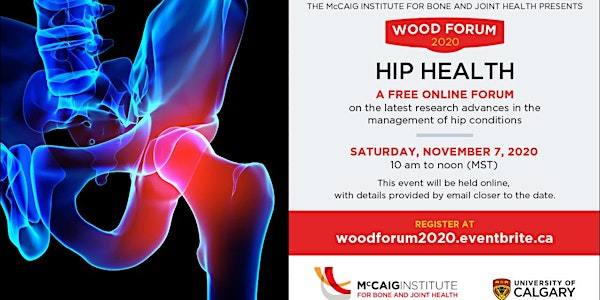 Online Wood Forum 2020: Hip Health
JOIN US FOR A FREE ONLINE EVENT ON BONE AND JOINT HEALTH
About this event
The McCaig Institute for Bone and Joint Health (University of Calgary) brings you a FREE online forum on the latest research advances in hip health, topics include hip fracture risk and prevention, cannabidiol use for arthritis and advances in hip replacement surgery.
Event instructions:
To join the webinar, click here: https://live.webcastcanada.ca/webcast/login/0cb8de92-3ef5-428e-aece-8877c2dfd031
Please click on the above weblink on Saturday, November 7th a few minutes before the event starts at 10:00 a.m. (MST). Once you click on the link you will be asked to submit your email address to enter the event.
PROGRAM:
Introduction & emcee: Jon Cornish, an investment advisor with RBC Dominion Securities and former football running back for the Calgary Stampeders
Welcome address: Dr. Steven Boyd, researcher and Director of the McCaig Institute for Bone and Joint Health
Keeping Hip: Tips for preventing bone loss and hip fractures: Dr. Emma Billington, researcher and endocrinologist
It's legal but is it any good: some thoughts on CBD (cannabidiol) in the management of arthritis: Dr. Liam Martin, researcher and rheumatologist
Let's Get Hip! Advances in hip replacement surgery: Dr. Rajrishi Sharma, researcher and orthopaedic surgeon
Preventing future fractures: An overview of Alberta 'Catch a Break' and 'Fracture Liaison Service' programs: Shannon Falsetti, nurse clinician, Alberta Health Services
View the complete online program.
SCHEDULE:
10:00 AM (MST): Speaker presentations
11:30 AM (MST): Q&A and speaker panel
ONLINE EVENT
The event link will be shared with all registered attendees a few days prior to the event and on the day-of the event through email.
QUESTIONS?
Contact the McCaig Institute for Bone and Joint Health: mccaig@ucalgary.ca.