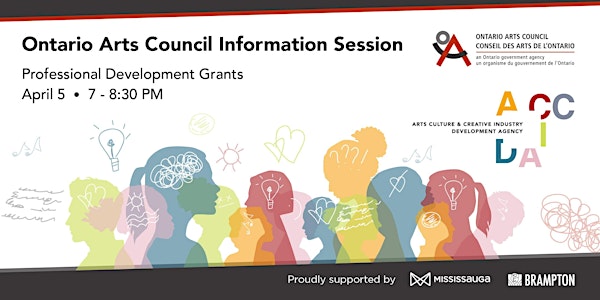 Ontario Arts Council Information Session
Information session on multiple Ontario Arts Council (OAC) professional development grants for Peel Region artists.
About this event
Are you interested in support to develop your arts practice?
Participate in a FREE online information session for Peel Region artists about these Ontario Arts Council (OAC) professional development grants:
Skills and Career Development: Indigenous Arts Professionals and Arts Professionals of Colour – Next deadline: May 5, 2022, at 1 p.m.
Chalmers Professional Development Projects – Next deadline: November 16, 2022, at 1 p.m.
Chalmers Arts Fellowships – Next deadline: June 1, 2022, at 1 p.m.
Artist-Presenter Collaboration Projects – Next deadlines: April 27 and October 27, 2022, at 1 p.m.
Learn from OAC program staff and artists based in Peel Region who have received funding and/or been a peer assessor about:
Eligibility
The application process and requirements
The importance of support material
Presenting a balanced budget
Peer assessment and the decision-making process
The impact of funding
Breakout rooms will be hosted by OAC staff and artists to give you an opportunity to ask questions and receive feedback.
Accessibility:
This session will be offered in English. ASL/English sign language interpretation and English captioning will be provided.
If you require services in French, please contact the OAC's Francophone Arts staff.
Si vous avez besoin de services en français, veuillez contacter le personnel des arts francophones du Conseil des Arts de l'Ontario. Plusieurs sessions d'information en français auront lieu prochainement. Vous trouverez plus de détails ici http://ow.ly/7xRB50IllhL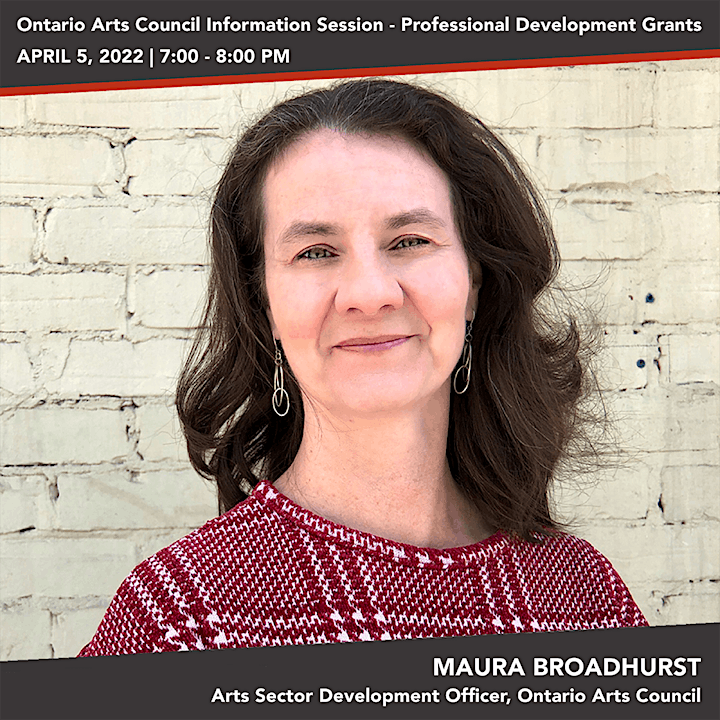 Maura Broadhurst is the Arts Sector Development Officer at Ontario Arts Council. In this capacity she manages the Arts Service Organizations programs as well as programs in the Audience Development stream. Prior to this position, she was Cross-Sectoral Associate Officer working in project programs in the different discipline and activity sections of the Council, and she was the Arts Investment Fund Officer from 2011 to 2013. From 1999 to 2011 Maura was the Curator at the Latcham Gallery, the public art gallery in Stouffville, Ontario. She has also worked at the McMichael Canadian Art Collection as an Educator and Program Coordinator, London Regional Art & Historical Museums, the Living Arts Centre in Mississauga, Canadian Stage Company and Desrosiers Dance Theatre. Maura taught courses in Museum Studies and Contemporary Curatorial Practices at the University of Western Ontario In London. She received her Bachelor's from the University of Waterloo with a major in Art History and a specialization in Arts Administration. She then continued her studies at Concordia University where she received her Master's of Arts and wrote her thesis, Strategic Spaces: Towards a Genealogy of Women Artists' Groups in Canada.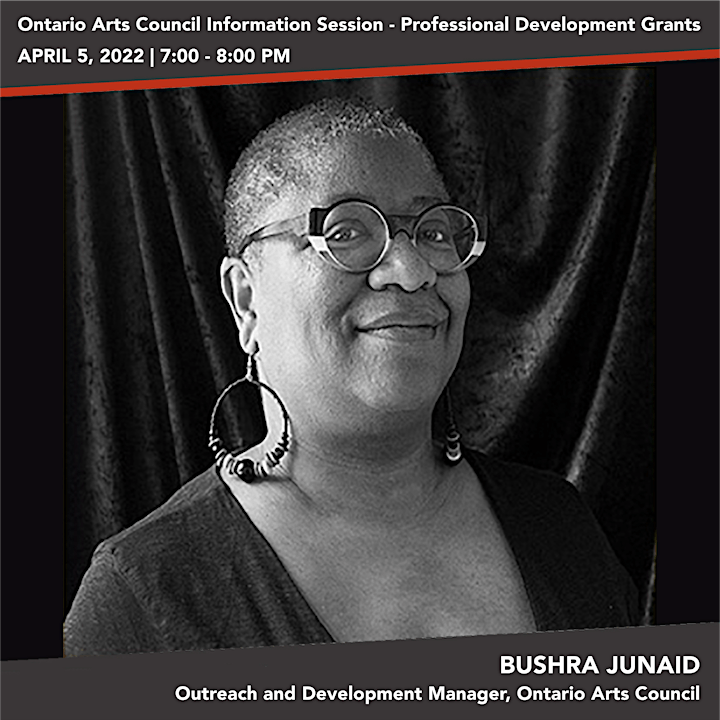 Bushra Junaid (she/her) is Outreach and Development Manager at the Ontario Arts Council (OAC) and manages the Skills and Career Development: Indigenous Arts Professionals and Arts Professionals of Colour and Deaf and Disability Arts programs. Bushra has spent the past fifteen years supporting the development and artistic practices of artists from a diverse range of backgrounds and communities. Prior to taking on the outreach and development role, she was the OAC's Community and Multidisciplinary Arts Officer. Bushra has also worked in social housing, low income and homeless initiatives, and newcomer and refugee settlement. Bushra is also a practicing artist-curator who probes themes of history, memory, identity and placemaking in the diasporas of African-descended peoples. She has exhibited across Canada and in the US and her work is in public, private and corporate collections. Bushra has a Bachelor of Environmental Design and Master of Architecture from the Technical University of Nova Scotia.
Rachana Joshi is an emerging dance artist based in the GTA. After fourteen years of training, she completed her Bharatanatyam arangetram under the tutelage of Lata Pada in 2017. Rachana is currently a company dancer and teacher with Sampradaya Dance Creations and Academy. In 2019, she graduated from York University's B.F.A program in Dance with honours and received training in Limon and Graham modern techniques through the program. With the support of the Ontario Arts Council's Skills and Career Development grant, Rachana was able to broaden her professional career with the guidance of Nova Bhattacharya, and she is now a company dancer with Nova Dance. She also had the opportunity to work as Bhattacharya's Staging Assistant for Citadel + Compagnie's production of Red & Yellow in 2019 and participated in Ukai Project's Migration Online Residency in 2020 on behalf of the company. In 2021, Rachana was selected to take part in Peggy Baker Dance Project's ACTION LAB online, and was fortunate to receive choreographic mentorship from Peggy Baker to develop and explore her creative practice during the pandemic. Rachana is currently focused on broadening her choreographic skills by creating own dance works and building multidisciplinary artistic collaborations for the future. Aside from Bharatanatyam, she is trained in various movement disciplines such as kallari, hip hop, bollywood, improvisation techniques and contemporary dance. Rachana joined the Citadel + Compagnie team in 2021 and currently acts as the Box Office and Outreach Manager for the company.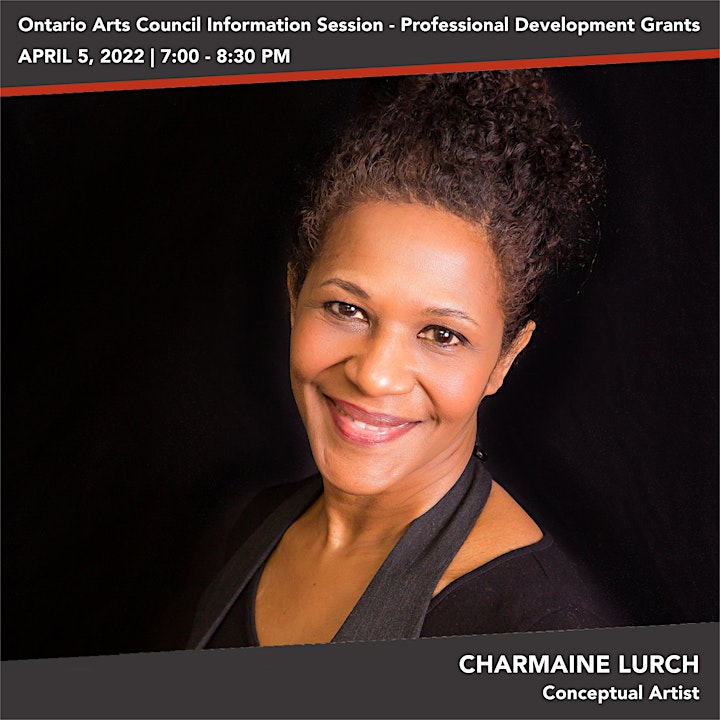 Charmaine Lurch is a conceptual artist whose work draws attention to human-environmental relationalities. Lurch's paintings and sculptures are conversations on infrastructures and the spaces and places we inhabit. Working with a range of materials and reimagining our surroundings—from bees and taxi cabs to The Tempest and quiet moments of joy, Lurch subtly connects Black life and movement globally.
Lurch has exhibited beyond and throughout Canada, including spaces such as the Art Gallery of Ontario, Musée des beaux-arts de Montréal, the Massillon Museum in Ohio, the National Gallery of Jamaica and a virtual exhibition at WEAD/Platform 3 in Tehran Iran. Her installations have been included in Nuit Blanche Toronto and the University of British Columbia's Liu Institute. Lurch's works have been acquired by several institutions and private collectors including Global Affairs Canada, who has shown her work in EXPO 2021 held in Dubai and Canadian embassies and consulates globally.