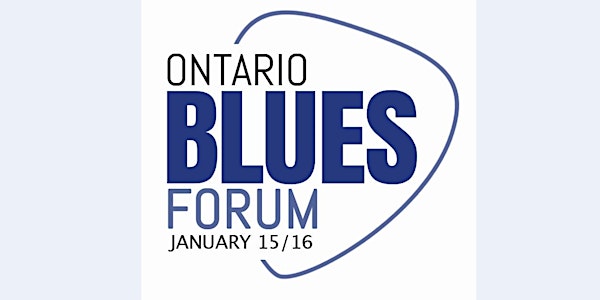 Ontario Blues Forum: Music Money
Date and time
Tue, Jan 16, 2018 2:30 PM - 3:30 PM EST
Location
Holiday Inn Toronto Downtown Centre, Yorkville Room 30 Carlton Street Toronto, ON M5B 2E9 Canada
Description
Advice and details on government, and other grants available to develop your career.
Panelists: Maya Bedward (Ontario Arts Council), Mark Watts (OMDC), Derek Wilson (FACTOR), Barbara Isherwood (Freelance grant writer)
Maya Bedward is a filmmaker, arts educator and community-engaged artist from Toronto, ON. She is also the Information Services Coordinator at the Ontario Arts Council, where she helps artists and arts professionals navigate OAC's many funding programs.
Mark Watts is a program consultant for the Ontario Music Fund (OMF) at the Ontario Media Development Corporation. Mark has been working within the OMF since the program's inaugural launch in 2013. The OMF is a program that is aimed at strengthening and stimulating growth in Ontario's music sector. It is designed to drive activity and investment, and to support Ontario's music companies and organizations in expanding their economic and cultural footprints within Canada and around the world.
Derek Wilson has been with the foundation since 2012. As a former FACTOR-funded artist in the Juried Sound Recording & Demo Programs, he's acquired hands-on experience with management, publicity and booking domestic & international tours in support of independent & label releases. He holds a Bachelor in Social Sciences from Ottawa U & an Audio Production diploma from Harris Institute.
Barbara Isherwood has over two decades experience writing grants for music, arts and animal welfare organizations. She holds a Masters degree in Art History from the University of Toronto, where she also teaches. Barbara can be heard on air as host and producer of Catwoman Radio on CIUT 89.5 FM.
***
As part of the 21st Maple Blues Awards, the Ontario Blues Forum will be held between January 15-16, 2018. Led by special guest speakers, panels specifically curated for blues musicians and the industry will be open to public and free to attend. All panels will take place in Yorkville Room at the Holiday Inn Toronto Downtown Centre Hotel. Stay tuned for more info and mark your calendar.
---
Accommodation:
The Ontario Blues Forum will take place at the Holiday Inn Toronto Downtown Centre Hotel. For guests who would like to benefit from the special TBS room rates starting at $135 for their stay during the Forum, please contact TBS Office at info@torontobluessociety.com until January 10.
---
Ontario Blues Forum - Full Schedule:
Monday, January 15
Tuesday, January 16
About the organizer
Founded in 1985, the Toronto Blues Society (TBS) has been supporting, upholding and invigorating the blues community in Toronto and across Canada for over 30 years. Since that time, the TBS has grown to be the largest blues society in Canada and is a recognized leader among popular music organizations. With approximately 500 paid members and 2,000 newsletter subscribers, the Toronto Blues Society continues to create a lasting and powerful impact and extends far beyond the initial vision.