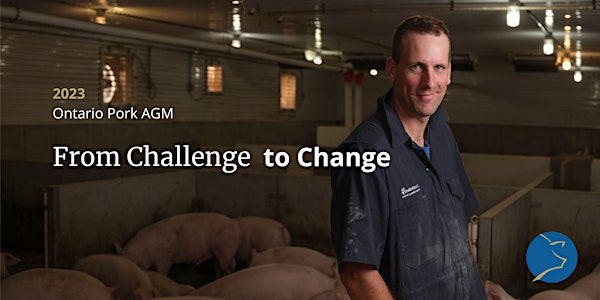 Ontario Pork Annual General Meeting 2023
The Ontario Pork Annual General Meeting 2023 is a two-day event that will be held at the Delta Hotel in Guelph on March 21-22.
Date and time
Tue, Mar 21, 2023 12:00 PM - Wed, Mar 22, 2023 2:30 PM EDT
Location
Delta Hotel and Conference Centre 50 Stone Rd West Guelph, ON N1G 0A9 Canada
About this event
If you are a producer or industry needing a hotel room, please book your room via this link: https://www.marriott.com/events/start.mi?id=1659629364266&key=GRP
If you are a delegate needing a hotel room, please email olga.klashtorny@ontariopork.on.ca
*A reminder that Delegates must check in on both days.
-------------------------
Tuesday, March 21, 2023
12:00 p.m. Lunch and Registration*
1:00 p.m. Opening Session of Annual General Meeting
Session Chair: John de Bruyn
1:15 p.m. North American Pork Market: Economic Drivers and Analysis
Steve Meyer, Kerns and Associates, Iowa
2:00 p.m. Workforce Trends: Inter-Generational Differences and Their Impacts on Workplace Dynamics
Sean Lyons, Professor, Gordon S. Lang School of Business and Economics
2:45 p.m. Nutritional Break
3:00 p.m. Government of Canada's Trade Agenda
Axel Ndayisaba, Director of the Trade Negotiations Division, Agriculture and Agri-Food Canada
3:45 p.m. Consumer Trends
John Cranfield, Professor, University of Guelph
4:30 p.m. Reception
6:30 p.m. Dinner Banquet and Awards
Entertainment
Freddy Proia, Stand-Up Comedian
------------------------------
Wednesday, March 22, 2023
7:45 a.m. Breakfast and Registration*
8:45 a.m. Honourable Lisa Thompson
Minister of Agriculture, Food and Rural Affairs
9:00 a.m. Call to Order – Business Meeting
Opening Remarks – John de Bruyn
Financial Report – Jim Weir
Auditor's Report – RLB LLP
9:35 a.m. Operations Report
Ken Ovington – General Manager
Stacey Ash - Communications/Consumer Marketing
10:00 a.m. Questions and Answers
10:15 a.m. Advocacy for Agriculture – Speaking to the Government
John Milloy, Department of Political Science, Wilfrid Laurier University
11:00 a.m. Nutritional Break
11:15 a.m. Canadian Pork Council Update
12:00 p.m. Lunch
1:00 p.m. Resolutions
2:30 p.m. Wrap-up Session and Closing Remarks
*Delegates must check in on both days.
About the organizer
Ontario Pork represents the 997 farmers who market 5.9 million hogs in the province. The organization is engaged in many areas, including research, government representation, environmental issues, consumer education and food quality assurance. Ontario Pork is the first livestock commodity group in the province to set social responsibility benchmarks, demonstrating pork producers' commitment to sustainable farming. Ontario's pork industry "farm to fork" generates $3.78 billion in economic output and 19,906 full-time equivalent jobs.