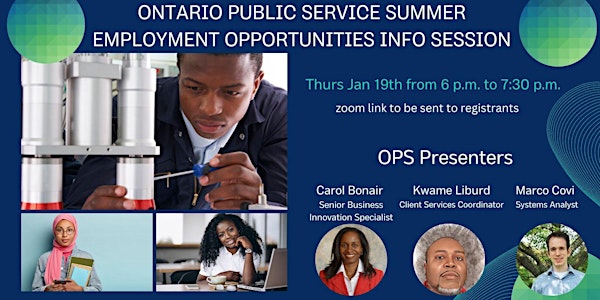 Ontario Public Service Summer Employment Opportunities Info Session
Join us as we provide an overview of the student summer job opportunities available within the Ontario government.
Date and time
Thu, Jan 19, 2023 3:00 PM - 4:30 PM PST
About this event
Thousands of 2023 summer jobs are available to Ontario students aged 15+ through the Ontario Public Service's Summer Employment Opportunities. With 17 career fields represented, and 74 job roles, this provides thousands of positions for students across Ontario.
Take this opportunity to investigate numerous career paths, develop skills, and get started on your future career. Three members of the Ontario Public Service (OPS) will provide information on summer employment opportunities, tips on applying to the OPS, tips on interviewing, and tips for post-interview activities. There will also be time to answer your questions.
The target audience for this information session is Black summer students in high school, college or university, and recent grads. Graduates interested in internships and full-time positions in the OPS may also find the session informative. There is no maximum age limit for student applicants.
If interested please register.
Zoom link to be provided closer to event.
Presenters:
Carol Bonair - Senior Business Innovation Specialist, Ontario Public Service
Marco Covi - System Analyst, Ontario Public Service
Kwame Liburd - Client Services Coordinator, Ontario Public Service
image attribution:
bottom left image source: https://www.freepik.com
bottom right image source: https://www.freepik.com