Ontario, Quebec and Electricty - Time for a new Relationship?
Description
SUSTAINABLE ENERGY INITIATIVE (SEI) SEMINAR SERIES
Ontario, Quebec and Electricty - Time for a new Relationship?
The availability of cheap natural gas as a result of the fracking boom in the United States has significantly weakened the market for hydroelectricity exports from Quebec to its US neighbours. At the same time Ontario is looking for storage capacity to balance the growing amounts of intermittent renewable energy sources connected to its grid and, potentally, cost-effective alternatives to nuclear refurbishments. Is it time for a neighourly chat?
Panelists:
Jack Gibbons Chair, Ontario Clean Air Alliance
Pierre-Olivier Pineau- Professor & Chair in Energy Sector Management, HEC Montréal
Jack Burkom- Senior Vice President - Commercial Development,
Brookfield Energy
Moderated by Mark Winfield, FES Faculty and Chair of York University's Sustainable Energy Initiative (SEI)
This event is free, but registration is required due to limited space.
Register online here (eventbrite) or RSVP to tarob@yorku.ca
*Please note that this event will feature a limited capacity webcast for those of you who are unable to attend in-person. This link will not be made public, so if you would like to access this, please send your confirmation and e-mail contact by no later than May 21 to tarob@yorku.ca indicating your participation.
www.yorku.ca/sei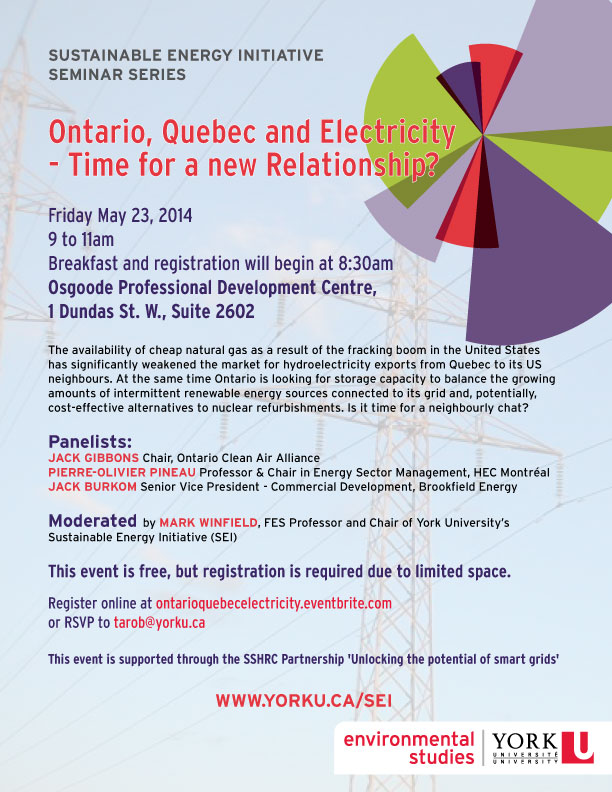 Organizer of Ontario, Quebec and Electricty - Time for a new Relationship?
The Faculty of Environmental Studies Sustainable Energy Initiative (SEI) has been established to build and strengthen the teaching, research and partnerships needed to create new green energy economies in Canada and around the world. Focused on energy efficiency and conservation, renewable energy sources and combined heat and power, the Initiative is designed to: 
Advance sustainable energy solutions through research; 





Educate and train the new cohort of sustainable energy practitioners needed to respond to the demand created by the Ontario Green Energy Act and similar initiatives in other jurisdictions; 





Build sustainable energy partnerships among educational institutions, government agencies, business and industry, and non-governmental organizations; and 





Enhance learning opportunities for professionals working in the sustainable energy industry.