Description
Join Us For The Conference!
Ontario Student Midwives Conference 2016
Hosted by Association of Ryerson Midwifery Students (ARMS)
Saturday September 24th, 2016 – 1:30 p.m. - 8:00 p.m
Sunday September 25th, 2016 - 7:45 a.m. - 2:45 p.m.
Conference Agenda: (please zoom-in to see the presenters and topics)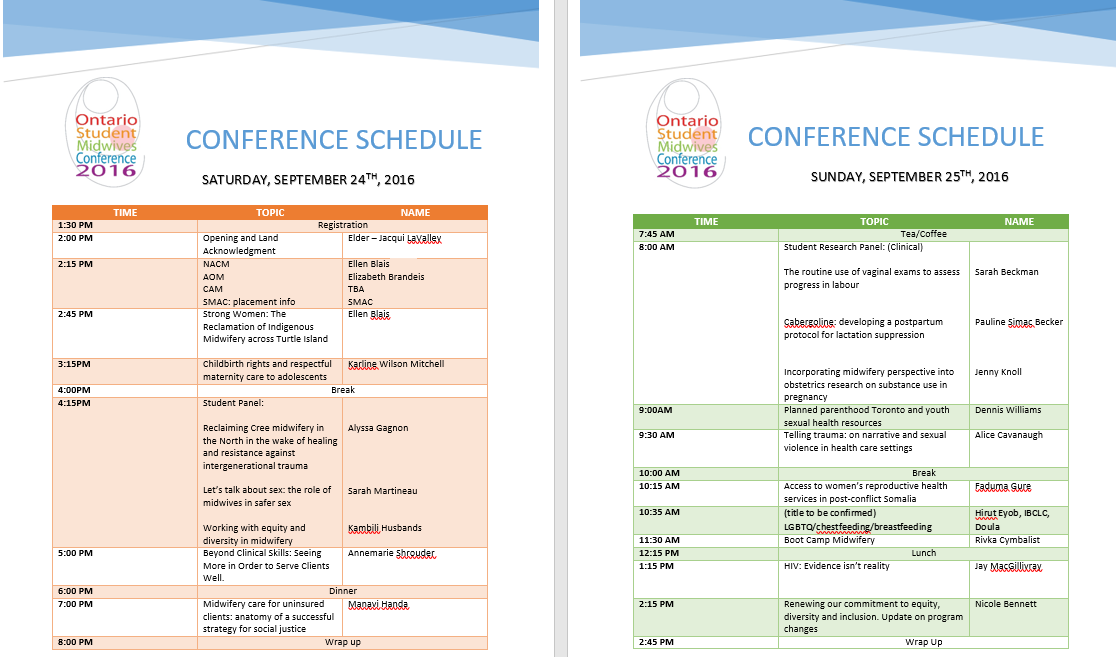 About the conference
The Ontario Student Midwives Conference is an event that brings together student midwives from across the province – from Ryerson, McMaster and Laurentian Universities, as well as student Aboriginal Midwives from Tsi Non:We Ionnakeratstha Ona:Grahsta' at Six Nations.
The conference is an opportunity for student midwives to share research and other best practices, and to network amongst the various sites. It is also an opportunity to showcase the research of Ryerson students and faculty. The conference is run entirely by students, and made possible by funding from RSU and student engagement funding from the Faculty of Community Service. This will be the 7th conference of its kind.
*****Conference agenda Posted here: http://ryersonarms.weebly.com/student-conference-2016.html *****
If you are travelling from out of town and require a place to stay overnight please email us at: arms@ryerson.ca so we can set you up with a Toronto host.