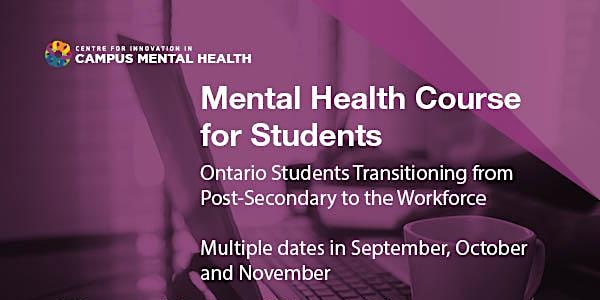 Ontario Students Transitioning from Post-Secondary to the Workforce
A 60 mins virtual course that will discuss the various challenges students may face transitioning from post-secondary to the workplace.
About this event
Transitioning into the workforce after completing a post-secondary education can be challenging and many students don't feel well supported. The Centre for Innovation in Campus Mental Health presents a 60 mins virtual webinar course that will discuss the various challenges such as financial and career stress, potential failures and ever-changing relationships during this period. The course aims to help attendees identify these potential barriers, identify skills that manage these challenges and learn how to access supports available within the community and on campus. This course is for student attendees in Ontario, Canada.
The course will be held virtually on November 23rd at 1:00 PM. Please register here to receive your meeting link.