Ontario: undermining Guelph's Climate Goals
About this event
Ontario: undermining Guelph's Climate Goals
Examining the alternatives
We need a Guelph City Council resolution.
Ontario's proposed gas plants expansion - and associated greenhouse gas emissions- will undermine Guelph's climate change goals. It will also significantly reverse the pollution reductions achieved by shutting down coal plants. There are alternatives.
In light of the climate emergency acknowledged by Guelph City Council, groups in Guelph (see list below) are joining forces with organizations across Ontario to demand the province reduce, not increase, fossil fuel generated power. We urge City Council to pass a resolution, compatible with our emission reduction goals and with Council's previous resolution supporting a phase-out of coal-generated electricity.
_______________________________________________________________________
Join us as we host Jack Gibbons from the Ontario Clean Air Alliance.
This webinar will shed a light on how Guelph can once again lead in fighting climate change. Our city was at the forefront during the coal phase out. Now we need to do the same with gas plants.
Jack Gibbons from the Ontario Clean Air Alliance, will draw a road map on how we can exploit new alternative cost effective clean energy sources that will generate economic and social wealth. He will advocate how transitioning away from fossil fuels to a renewable energy economy has clear benefits for people and natural ecosystems. We have an opportunity to create a more prosperous, healthy and equitable society.
_______________________________________________________________________
About Our Speaker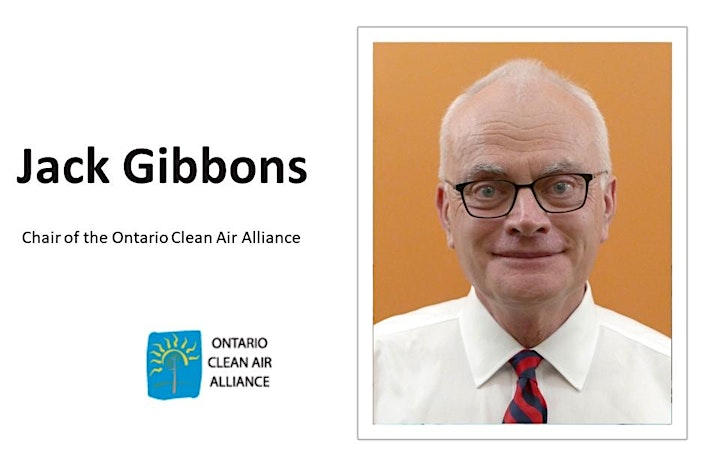 Jack Gibbons| Chair of the Ontario Air Alliance
Jack Gibbons is Chair of the Ontario Clean Air Alliance. Jack has worked on energy and environmental issues in Ontario for more than 40 years. His previous positions include: Economist, Energy Probe; Project Manager, Ontario Energy Board; Senior Economic Advisor, Canadian Institute for Environmental Law and Policy; and Commissioner, Toronto Hydro.
Jack has studied economics at the University of Toronto (B.A.), Queen's University (M.A.) and the University of British Columbia.
_______________________________________________________________________
Background:
The Government of Ontario is about to make it much harder for Guelph to reach its climate change goals. To replace the aging Pickering Nuclear Station (scheduled to close in 2024), the Province plans to ramp up greenhouse gas pollution from gas-fired power plants over 300% by 2025 and over 400% by 2040. Gas can be comparable to coal in climate impacts. Ontario will be cancelling about 30% of the improvements from the coal phase-out.
Guelph has two aggressive climate goals: 100% renewable energy (in all city facilities and equipment) and net zero carbon for the entire city by 2050 – both thwarted by this one provincial action.
It's started: The Province recently bought 3 gas plants (for $2.8 billion). Enbridge plans a new pipeline through Hamilton to import fracked gas (a particularly "dirty" type) from the United States.
Fortunately, there is a better way to keep our lights on. We can meet our 2030 Ontario climate target, Guelph's 2050 targets, and lower our electricity bills by phasing-out gas-fired power plants by 2030 and embracing lower cost, cleaner options.
Here's how:
● Bring back energy efficiency programs. They are quick-to-deploy and low-cost. Maximize return by paying up to the same price per kWh for energy efficiency measures as we pay for nuclear power (e.g., up to 9.5 cents per kWh).
● Support renewable energy projects, now much cheaper than nuclear power, and retaining dollars in communities.
● Accept Quebec's offer of low-cost 24/7 power from its massive James Bay waterpower system. Quebec's reservoirs are like a giant battery to backstop made-in-Ontario renewable power, eliminating the need to use gas-fired power plants. James Bay First Nations support exports to Ontario and would benefit financially.
● Place an interim cap of 2.5 megatonnes per year on Ontario's gas plants' greenhouse gas pollution and develop a plan to phase out all gas-fired electricity generation by 2030. Use COVID-19 stimulus funding to fast track these approaches across Ontario
Our city council needs to uphold our climate goals and make it clear that Ontario needs to re-focus its energy and climate plan for the sake of every community. . City council can use its influence at the Large Urban Mayor's Caucus of Ontario (LUMCO – our mayor is the chair) and at the Association of Municipalities of Ontario (AMO – our city is a long-standing member).
Like our city's bold resolution on the coal phase out - Council must send a strong message to Queens Park: burning more fossil fuel in an 'acknowledged climate emergency' is a recipe for disaster.
Organizations in support of the City of Guelph taking bold action against more climate change pollution are listed below.
Council of Canadians-Guelph Chapter
eMERGE Guelph
Extinction Rebellion Guelph
Guelph Green New Deal
Guelph Wellington Social Justice Coalition
KAIROS Guelph
Ontario Clean Air Alliance
Transition Guelph
Wellington Water Watchers
___________________________________
This is a free event but registration is required. To simplify the process we're asking you to register via Eventbrite so that we can do a better job of keeping track of registered candidates.
There are two ways to register: Free or donation.
We also want this event to be accessible to everyone. For this reason we make it a 'Free' event for everyone to help spreading the word and mobilizing government forces to combat Climate Change. However, we also accept donations. If you have the wherewithal and the inclination please consider choosing the donation option.
Organizer of Ontario: undermining Guelph's Climate Goals