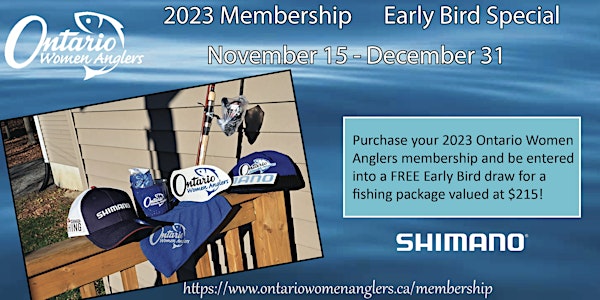 Ontario Women Anglers - 2023 Membership Fee
Purchase before Dec. 31 to be entered into the Early Bird draw!
Date and time
Tue, Nov 15, 2022 12:00 PM - Tue, Oct 31, 2023 11:59 PM EST
About this event
350 days 10 hours

Mobile eTicket
OWA membership gives you access to all of the below and first chance to register for events before the public. Membership is open to women only, 18 years of age and older.
​We have changed the process of purchasing memberships. To be considered a member "in good standing", you must have both a 2023 OWA membership and an OFAH membership that covers at least the time period of Jan. 1 - Dec. 31, 2023. If your OFAH membership expires in 2023, please renew it when you purchase your OWA membership. All OFAH memberships must be current for the entirety of 2023 for our organization and its members to maintain insurance coverage.
There are several options for OFAH memberships - adult, family and digital. Please read the chart below and choose the membership that suits your needs.
IMPORTANT
Ontario Women Anglers is an OFAH member club. All OWA members MUST also be OFAH members and can get their OFAH membership at a reduced cost through OWA. An OFAH membership is a full 12 months regardless of when you join.
Please note: OFAH membership costs increased January 1, 2023
Become a new member or renew by December 31, 2022 to be entered into a FREE Early Bird draw for a Shimano Fishing Package (valued at $215) including:
Shimano Sienna Spinning Combo
Shimano Ball Cap - Keep Canada Fishing edition
Shimano Decal
OWA Buff, Toque, Towel, Coffee Mug and Decal
https://www.eventbrite.ca/e/ontario-women-anglers-2023-membership-fee-registration-468374910967
Membership Benefits and OWA Events
Intro to Fishing for Women
Ice Fishing Weekend in Parry Sound (Feb 2 - 5)
Ice Fishing Weekend at Elbow Lake (Kingston area) (Feb 23 - 26)
One-Day Ice Fishing Events
Species-Specific Fishing Outings
Steelhead and Fly Fishing
Kayak/Canoe Social Fishing Day
Family Fishing Event
Bass Fishing Weekend for Women (June 22 - 25)
Shimano Big Bass Tournament
Fall Fishing Weekend
Special Events & Workshops with Guest Speakers
7th Annual Ontario Women Anglers Bass Tournament
6th Annual Chester Cup Tournament
Christmas Workshop & Social Event
Ontario Women Anglers closed Facebook group
Fishing from shore activities when available
Equipment is available to borrow at some events
and more!
 OFAH Members Benefits
OFAH individual members' public liability insurance ($5 million)
Exclusive no cost OFAH member club liability insurance programs ($5 million)
Directors and officers liability insurance
Range liability insurance (conditions apply)
Advocacy and protection for your outdoor interests
Fish and wildlife, land use and firearms information
Exclusive OFAH member discounts
Optional Ontario OUT OF DOORS Magazine subscription
For more information about OFAH membership benefits:   https://www.ofah.org/membership/highlights
About the organizer
Ontario Women Anglers is an organization that provides a variety of programs aimed at getting more women and children outdoors and involved in fishing. Through anglers' education workshops, hands-on activities, fishing excursions, community events and mentorship, Ontario Women Anglers provides opportunities for both new and experienced female anglers to increase their fishing skills and to network with others that share this passion. 
We are completely non-profit, volunteer driven and receive the generous support of individuals and businesses in the fishing industry.