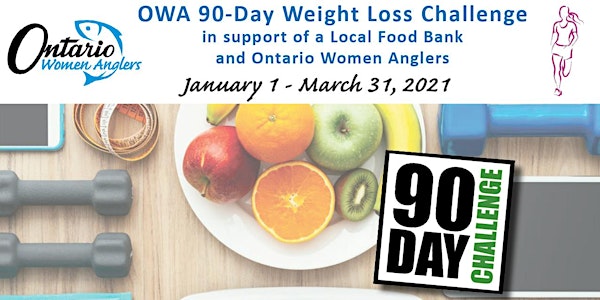 Ontario Women Anglers 90-Day Weight Loss Challeng
A 90-day challenge...with community benefits!
About this event
OWA 90-Day Weight Loss Challenge 
Have you put on a few pounds during isolation? Would you like to start the New Year off with a commitment to get back to a healthier lifestyle and, at the same time, have a chance at some great prizes and help out in your community?
Ontario Women Anglers is hosting it's second Weight Loss Challenge!
$700 in prizes to be won by the top 7 place finishers!
50% of the proceeds raised will go to a food bank of the 1st place winner's choice and 50% to support the activities of the Ontario Women Anglers.
Women only ~ 19 years of age and older.  No membership required. Open to residents of Canada only.
Donation: $20
When: January 1 - March 31, 2021
Location: Online
https://www.eventbrite.ca/e/ontario-women-anglers-90-day-weight-loss-challenge-2021-registration-133775406843
Prizes:
1st Place  Shimano Sellus 6'8 Spinning Rod 2 pce, Shimano Nexave 2500HG Spinning Reel, Rod Glove (value $160) PLUS the winner gets to choose a local food bank to donate half of the proceeds collected.
2nd Place Shimano SLX 151HG Baitcasting Reel (value $140)
3rd Place Shimano Convergence 10' Steelhead 2 pce Spinning Rod, Rod Glove (value $125)
4th Place Shimano Convergence 6'6 Spinning 2 pce Rod (value $90)
5th Place Shimano Baltica Tackle Bag (value $80)
6th Place Jackall Lures (TN60 Disk Knocker, Riserbait 007R, Deracoup 1/2 oz) (value $55)
7th Place $50 Bass Pro Shop Gift Card
Weight Loss Challenge Rules:
Participants can sign up anytime from now to January 31. Registration will be closed after that date.
Participants will send in a photo of themselves on a scale showing their current weight at the start of the challenge and another photo at the end.
Starting weights will not be made public. The "weigh-in" photo will be sent to Yvonne Brown only. The top seven results will be posted on social media and will only include the percentage of body weight lost.
The winners are decided by the highest percentage of weight loss. For example, if you start at 185 lbs and lose 20 lbs, that's and 10.8% weight loss.
Participants are encouraged to combine healthy eating with safe exercising for a healthy weight loss plan.
HAVE FUN, GET FIT AND FEEL HEALTHIER while supporting two great community organizations!
We will have a closed Facebook group where participants can share their success stories, pictures, recipes and exercise tips, get support from other participants.
NEW - We are hoping to have a Registered Dietician give us some tips through a Zoom meeting and will be adding other supports in the Facebook group.
If you have any questions, contact me by phone/text: Yvonne Brown (905) 447-7879 or via e-mail at events.owa101@gmail.com