Op RENAISSANCE: The Canadian Forces' Contribution to the humanitarian missi...
Description
Op RENAISSANCE: The Canadian Forces' Contribution to the humanitarian mission in Nepal


Lieutenant-Colonel Simon Comtois, head of the Wing Logistic and Engineering Office, will speak about his experience with the Disaster Assistance Response Team (DART) and Operation RENAISSANCE 15-1. LCol Comtois will give insight into the functions and activities of the DART on its last deployment to Nepal following the tragic earthquake that struck the country in April 2015. During that mission, DART provided medical care to Nepalese patients, enabled access to clean drinking water, and assisted non-governmental organizations in their efforts. LCol Comtois will also discuss the on-location coordination challenges.
Please note that registration is mandatory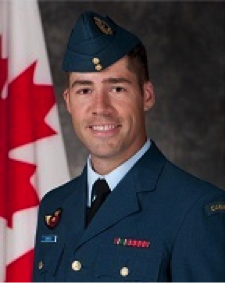 Lieutenant-Colonel Comtois was born in Granby. He enrolled in the Canadian Armed Forces in 1996. He studied at the Collège militaire royal de St‑Jean as well as at the Royal Military College of Canada in Kingston, where he completed his bachelor's degree in mechanical engineering in 2001.
After completing his military engineering training in Gagetown, NB, he was posted for the first time to Bagotville in 2003. He held the positions of energy management and sustainable development officer, operations officer, and administrative and technical support officer. In 2008, he was posted to the Canadian Defence Academy in Kingston as officer of engineering, workplace health and safety, and environment. After that, he served as officer commanding the infrastructure group at 4 Wing in Cold Lake from 2010 to 2013. After completing the JCSP Program at Staff College in Toronto, he was once again posted to Bagotville, this time with 2 Air Expeditionary Wing and, since July 2015, he is the Wing Logistic and Engineering Officer for 3 Wing, CFB Bagotville.
Lieutenant-Colonel Comtois has deployed with a number of international operations, including Op ATHENA in Kabul in 2005 and in Kandahar in 2008. More recently, he deployed on Op IMPACT in Cyprus and Op RENAISSANCE in Nepal.
Lieutenant-Colonel Comtois holds a master's degree in defence studies (completed in 2014) and a master's degree in business administration (completed in 2015). He enjoys all kinds of social activities as well as various sports (squash, volleyball, hockey, golf, fishing, etc.). He is very happy in his adoptive region of Saguenay.