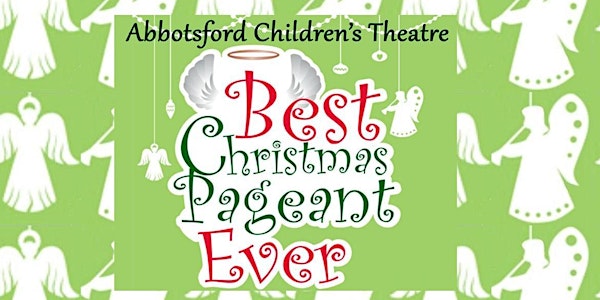 OPEN AUDITIONS: The Best Christmas Pageant Ever
Auditions for the Best Christmas Pageant Ever. Tuesday, September 6th, 4:30 am - 7:30 pm. Held at the Matsqui Centennial Auditorium.
When and where
Location
Matsqui Centennial Auditorium 32315 South Fraser Way Abbotsford, BC V2T 1W7 Canada
About this event
Calling all actors age 10 - 18. Come out and audition for Abbotsford Children's Theatre fall production of "The Best Christmas Pageant Ever"!
"The Best Christmas Pageant Ever" is a touching story about the pitfalls and mishaps that can get in the way of the production of a Christmas pageant. An annual event that has followed a familiar pattern every year is suddenly thrown off track when the director breaks her leg and is forced to step aside. Then a family of unruly kids invades the church one Sunday. The Herdmans were considered the worst kids in the whole world. There were six of them and they proceed to take over all the leading roles. Chaos reigns during the rehearsals and Rev Hopkins and the Ladies Aid think the pageant should be cancelled.
Auditions are Tuesday, September 6th, 4:30 pm - 7:30 pm at the Matsqui Centennial Auditorium, 32315 South Fraser Way, Abbotsford, BC. Call backs are Thursday, September 8th, 4:30 pm - 7:30 pm also at MCA. If you are called back and don't attend, you will not be cast.
This play will be double cast and each cast member will be in all performances either as their main character or as an ensemble member. Cast members must attend all rehearsals. Rehearsals begin Saturday, September 10th and are held every Saturday from 9:00 am - 12:00 pm. Extra rehearsals will be held some Thursdays, from 5:00 pm to 8:00 pm.
Performances are Thursday, November 24th (school shows during the day), Friday, November 25th (school shows and 1 evening public performance), and Sunday, November 26th (1 public matinee performance). Performers need to be prepared to add Wednesday, November 23rd school show performances to their schedule if a show needs to be added due to school show sell-outs.
Cast will participate in all performances. Each actor should be prepared to miss three days of school during show week November 23rd - November 26th. If it is not possible for an actor to miss school during the performance time frame, please do not audition.
ACT is a registered non-profit group and as such we are responsible for all of our rental & production costs for each show.  There is a fee to join ACT.  The current fee is $200.00 per actor, per show. Fees are due at the first parent meeting.