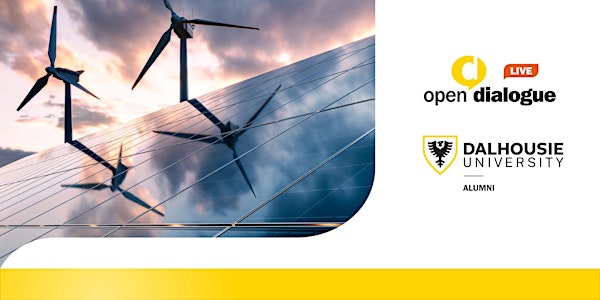 Open Dialogue Live: Clean energy of the next generation
Join our guest experts for a thought provoking conversation on clean energy of the next generation.
When and where
Location
Ralph Medjuck Building, Room HA19 5410 Spring Garden Road Halifax, NS B3H 4R2 Canada
About this event
How do we slow climate change? We need to develop cleaner and renewable energy sources to stop this phenomenon and heal the planet.
Advanced Energy Storage is the university's primary focus – to deliver clean technology solutions by revolutionizing how we capture, generate, and store energy so future generations can thrive on a healthy planet.
Our panelists will discuss how they are developing clean tech talent, fuelling research and creating clean tech opportunities for people and businesses.
This event will be presented in person in Room HA19, Ralph Medjuck Building on our Sexton Campus, as well as livestreamed via Dalhousie Alumni and Friends Facebook Live and Dalhousie YouTube. We encourage you to join us in person for the opportunity to interact with the speakers and be entered to win door prizes. All attendees will have an opportunity to engage during the Q&A portion following the discussion.
Learn more about what this dynamic conversation will cover in a preview article on the Alumni & Friends website.
Register to attend
This event is free and open to the public, but guests must RSVP to attend in person or to participate virtually via livestream.
About the speakers
Dr. Chris Burns (MSc'11, PhD'15) is the Chief Executive Officer and co-founder of NOVONIX, where he has led all company divisions, including NOVONIX Battery Technology Solutions and NOVONIX Anode Materials. He studied physics at St. Francis Xavier University before pursuing graduate studies at Dalhousie, where he co-developed the breakthrough Ultra-High-Precision-Coulometry (UHPC) technology with Dr. Jeff Dahn. As TESLA's first technical hire in Canada in 2015, Dr. Burns, as a Senior Research Engineer, led projects in materials and battery characterization with the goals of selecting EV and ESS battery chemistry and materials. Dr. Burns holds multiple patents related to Li-ion batteries and is a co-author on peer-reviewed journal articles that have been cited over 4,000 times.
Christine Macy is a Professor of Architecture at Dalhousie University. In 1990, she established her design partnership with Sarah Bonnemaison — Filum Ltd. — specializing in lightweight structures and public space design. Their early projects included festival architecture for the 1990 Gay Games, and the city of Vancouver's bicentennial celebration which entailed large "triumphal arches" painted by local artists in four urban parks, writing large the stories of "Arrivals & Encounters" experienced by Indigenous and marginalized peoples in those neighbourhoods. Later projects include the Fuji Pavilion in Montreal's Botanical Gardens; the Bamboo Pavilion in Sansia, Taiwan; and the Black Loyalist Heritage Centre in Nova Scotia. Their books on festival and portable architecture include Festival Architecture (Routledge 2007) and Responsive Textile Environments (Tuns Press 2007). As an architectural historian, Christine is interested in the social dimensions of environmental design; her and Sarah's book Architecture and Nature: Creating the American Landscape (Routledge 2003), received the Alice Davis Hitchcock Award from the Society of Architectural Historians. From 2008-2019, Christine was Dean of the Faculty of Architecture and Planning at Dalhousie.
Dr. Lukas Swan (MASC'06, PhD'10) is Professor of Mechanical Engineering and the Principal Investigator at the Dalhousie University Renewable Energy Storage Laboratory. He has 20 years' experience with battery energy storage for electric vehicles and renewable energy. He takes pride in his research by continually investing the market segments, such as commercial wind, solar, and he has been an electric vehicle driver for decades. He focuses his R&D on unique, elegant, and robust solutions to transition from fossil fuels to efficient electrification. Lukas has a broad range of experimental and modeling experience with major battery chemistries and energy storage technologies. He has developed, tested, and evaluated an enormous variety of battery packs ranging from hand tools to freight trains to grid storage to remote islands. He is also a member of CSA and UL committees that have created and published international standards for energy storage systems. He has worked throughout the world as engineering consultant to a wide variety of companies ranging from startups to multinationals and has also served as expert witness to the International Court of Arbitration (Geneva). Lukas received his PhD and Master's from Dalhousie University and his Bachelor's from California Polytechnic San Luis Obispo.
Our moderator
Rochelle Owen has worked in the environment and sustainability field for over 30 years at non-profit, government, and academic institutions. She currently works as the Executive Director of the Office of Sustainability at Dalhousie University. Rochelle uses facilitation, community development, program management, and analytical skills to design programs and involve people in sustainability issues. Rochelle holds a BSc in community health, a Masters in Environmental Studies, certificate in Financial Management and is a LEED Green Associate.