Description

Shut the Front Door is excited to present Open Doors Improv Camp (ODIC): Where comedy meets camp for a one-of-a-kind adventure!

This camp focuses on teamwork, confidence, and community. Whether you're new to improv or a seasoned performer, there is something for you at ODIC.
The benefits of improv include enhanced communication skills, stronger leadership, better relationships, agile thinking, and a boost in creativity (to name a few). This weekend is full of customized workshops, improv jam sessions, campfires, and more! Open Doors takes improv into the wilderness for a comedic camping experience.
Register today. This is the kinda stuff that fuels your FOMO.
The adventure includes:
- Overnight shared cabin accommodations (a hostel in the wilderness? The plot line of no scary movie ever!)
- All meals, snacks, and non-alcoholic drinks
- (NEW!) 3 Improv Workshops
- (NEW!) Special Guest Instructor (TBA)
- Commemorative ODIC T-shirt
- Improv Karaoke
- Themed Dance Party
- Forest. Friends. FUN!
And more... SO MUCH MORE.
Ticket Types:
EARLY BIRD $195+Fees - Limited spots at a discounted price. Special ends April 30th at Midnight EST
REGULAR $215+Fees -As of May 1st, 2019
*Payment Plans are available upon request
(NEW!) Community Camper Scholarship
You may have noticed the increase in price since last year...
We have pumped up the offering for camp this year and have added a 3rd workshop, a special guest instructor and more improv time together. We have a team of volunteers working hard to create an unforgettable experience where comedy meets camp!
We love improv and want to be able to share it with everyone, and we also understand that this cost could be a barrier. In efforts to "open the door" (and because our community is full of generous, improv-loving hearts), we have been gifted a few Camp Scholarships to cover 50% of the cost for 5 eligible campers. We have also introduced a Community Camper Fund where those with more can donate a little- to help decrease the cost and increase the fun- for those of us that could use a little help from our friends.
Eligibility Criteria
Applicant must:
- have a strong interest in playing with improv
- be engaged and ready to learn
- answer all questions on the application
- be a human person that plays well with others
- not have previously attended ODIC in 2018
Every application will be read by Brandon Rudd, Executive Director of Shut the Front Door and will be awarded on a first come, first serve basis. Once the 5 scholarships are granted, they are no longer available.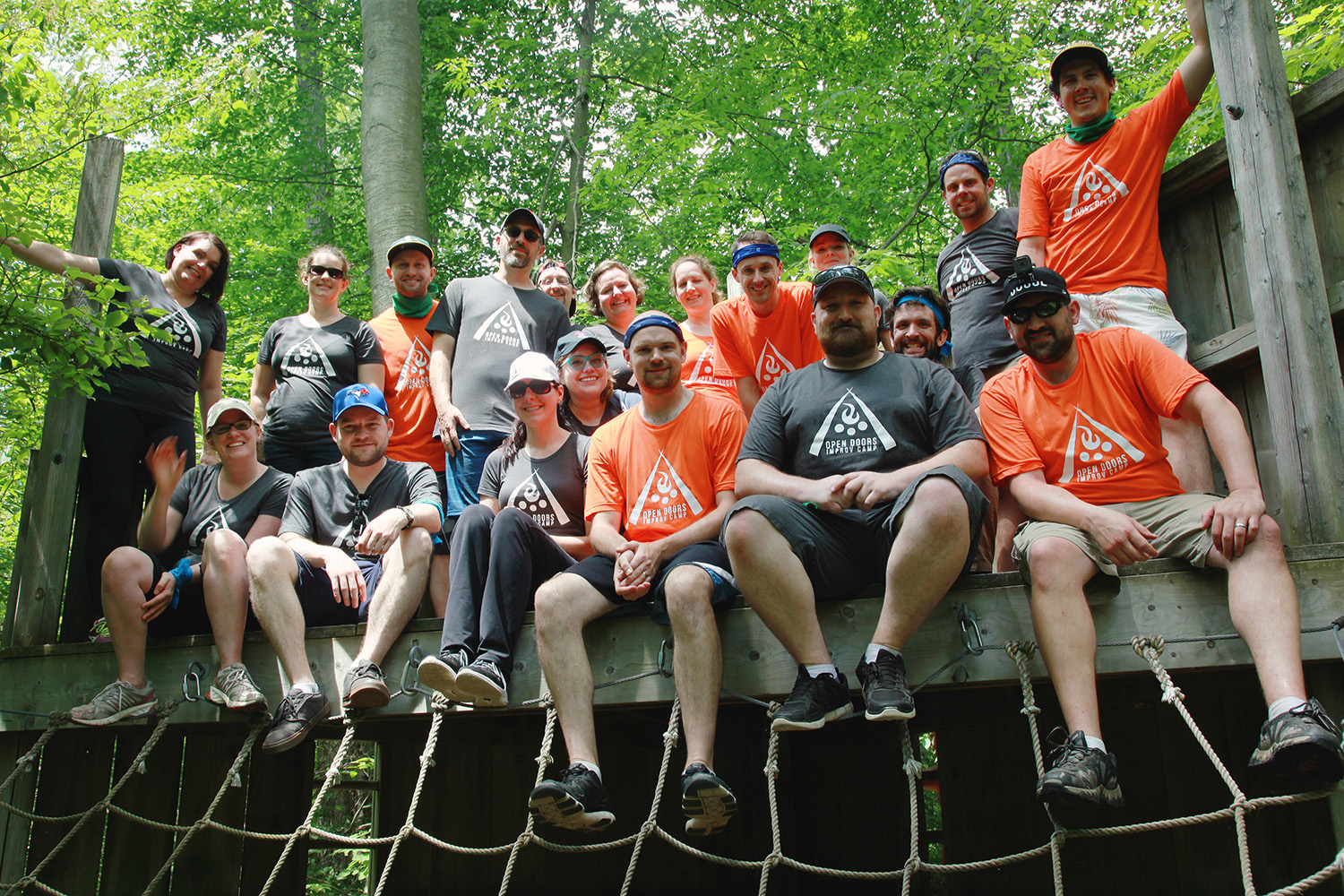 You will be required to sign and agree to both a wavier and terms and condiitions upon arrival at camp. These documents will be sent prior to camp for your review, along with your welcome package. (i.e. accomodations, dietry needs, workshop sign-up etc.)
Check out what some of our Open Doors Improv Camp alumni had to say about their experience...
"A truly amazing time, I can't wait until the next one! Not only did I gain more tools to use in improv but I made such strong connections with amazing and funny people!" - Mark
"I'm not sure what I expected when I signed up for Open Doors Improv Camp; skill building, workshops, a campfire, and some laughter perhaps. What I gained was deeper than that. I feel stronger and more confident in certain areas of my improv, and every day life, through challenging tasks, guided workshops and constructive feedback. And at the same time I am more vulnerable to open up, willing to take risks and challenge myself. I feel like the people that I barely knew at the start of the weekend have become lifelong friends and part of a strong and supportive improv network. I cannot wait to go back and see what other magic comes from this adventure." - Laura
"An amazing fun-filled weekend of new connections, hilarious improv games, and lasting memories! Totally worth it." - Erin
"Open Doors Improv Camp was supposed to be this silly fun experience and ended up changing my life, opening my mind, and creating tons of new friendships. 10/10 (minus mosquitoes)" - Sofia
For more information, check out our website! opendoorsimprovcamp.ca