Description

Shut the Front Door is excited to present Open Doors Improv Camp! Get ready for an immersive, interactive, adventurous weekend with new friends!
This camp focuses on teamwork, confidence, and community. Here you will make new connections and have the opportunity to express yourself through improv. Whether you're new to improv or you're a seasoned performer, there is something for you at Open Doors Improv Camp.
Looking to improve your communication skills, become a stronger worker, or build better relationships? Want to learn new life skills and perform with Shut the Front Door in a unique environment? Experience all that and more with customized workshops, fun jam sessions, campfires, and new friends! Open Doors takes improv into the wilderness, combining comedy and camping for a one-of-a-kind adventure.
What's Included:
- Overnight shared cabin accommodations
- All meals, snacks, and non-alcoholic drinks (1 lunch, 1 breakfast, 3 snacks)
- Team building/communication exercises
- Ropes course
- Two imporv workshops (Beginner, Intermedaite, and Advanced levels available)
- Commemoriative Open Doors Improv Camp t-shirt
- Recreation time - camp activites and impromptu improv games/workshops
- Chance to learn from and perform with Shut the Front Door/Off the Hinges
- Improv Jam Session
- Campfire
- Themed Dance Party
- Access to exclusive Facebook group
And more...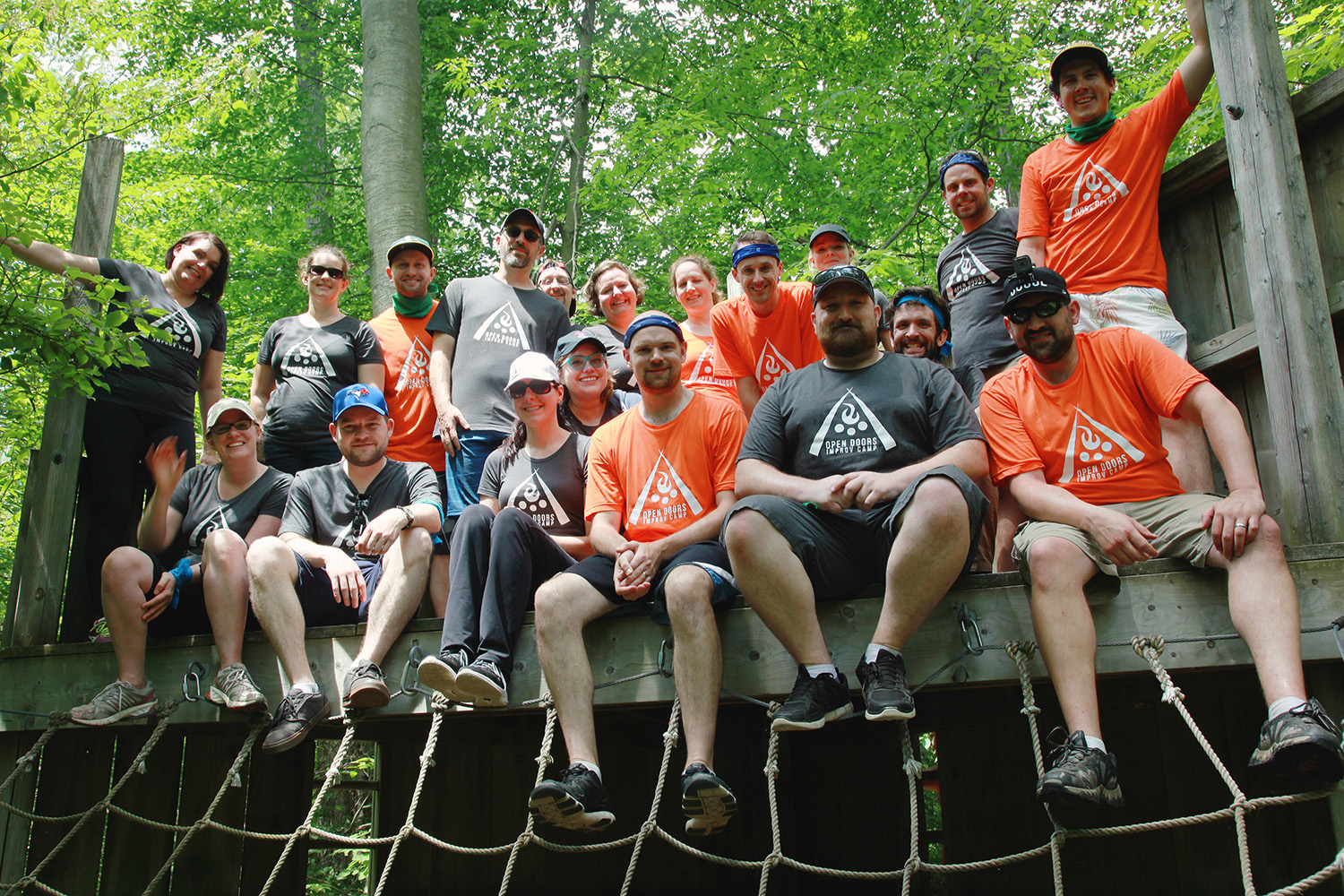 *Please read over the 'wavier' and 'terms & conditions' before registration. You will be required to sign and agree to both the wavier and terms and condiitions upon arrival at camp.
Single Camper or Bring a Friend (two campers) ticket options available!
Check out what some of our Open Doors Improv Camp alumni had to say about their experience...
"A truly amazing time, I can't wait until the next one! Not only did I gain more tools to use in improv but I made such strong connections with amazing and funny people!" - Mark
"I'm not sure what I expected when I signed up for Open Doors Improv Camp; skill building, workshops, a campfire, and some laughter perhaps. What I gained was deeper than that. I feel stronger and more confident in certain areas of my improv, and every day life, through challenging tasks, guided workshops and constructive feedback. And at the same time I am more vulnerable to open up, willing to take risks and challenge myself. I feel like the people that I barely knew at the start of the weekend have become lifelong friends and part of a strong and supportive improv network. I cannot wait to go back and see what other magic comes from this adventure." - Laura
"An amazing fun-filled weekend of new connections, hilarious improv games, and lasting memories! Totally worth it." - Erin
"Open Doors Improv Camp was supposed to be this silly fun experience and ended up changing my life, opening my mind, and creating tons of new friendships. 10/10 (minus mosquitoes)" - Sofia
For more information, check out our website! www.shuttthefrontdoor.ca
FAQs
Are there ID or minimum age requirements to enter the event?
Yes, you must be 19+ to attend this event.
How can I contact the organizer with any questions?
You can contact the organizers at opendoorscamp@shutthefrontdoor.ca.
What's the refund policy?
Refunds will be given up to 30 days prior to the event (minus fees). Please contact the organizers at opendoorscamp@shutthefrontdoor.ca if you require assistance or have any questions/concerns.