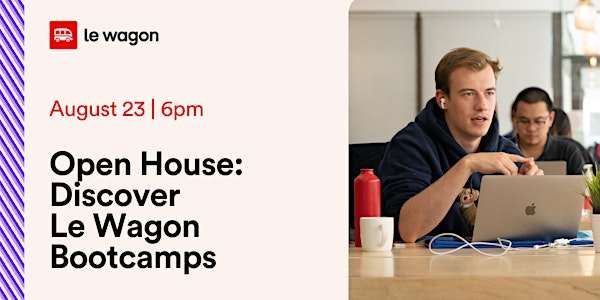 Open House: Discover Le Wagon Bootcamps
Join us on Le Wagon's campus to learn more about our coding bootcamps, meet our team, and ask any questions you have about our programs!
When and where
Location
Le Wagon Montréal 5333 Avenue Casgrain suite 102 Montréal, QC H2T 1X3 Canada
About this event
💻 Are you thinking about making a career change? Do you want to start working in tech but don't have the skills yet?
Whether you want to work in a startup, become a full-stack developer or enter the data science field, learning how to code is a great way to get started. 🤩
🔥 Le Wagon is a coding school with 15 000+ alumni since 2013. Our graduates have embarked on careers as developers, data analysts, product managers, entrepreneurs and so on.
If you want to learn more about our programs, join us on August 23 for our Open House. We will present the detailed curriculum to you, information about financing the program, and let you see our beautiful campus where our bootcamps take place. It will also be an opportunity to meet the Le Wagon team in person who will be available to answer all your questions!
Next intakes for our programs 👇
Web Development
Full-time 🇬🇧 | Oct 3 - Dec 2, 2022
Full-time 🇫🇷 | Oct 3 - Dec 22, 2022
Part-time | Jan 7 - June 15, 2023
Data Science
Full-time | Oct 3 - Dec 2, 2022
Part-time | Jan 7 - June 15, 2023
*******************************************************************************
💻 Vous souhaitez changer de vie ? Vous reconvertir ? Ou simplement acquérir de nouvelles compétences ?
Que ce soit pour travailler en startup, devenir développeur fullstack ou se lancer dans la science des données, apprendre à coder est un bon moyen de démarrer. 🤩
🔥 Le Wagon, c'est un programme pour apprendre à coder qui a déjà formé plus que 15 000 alumni depuis 2013. Ces derniers se sont ensuite lancés dans des carrières de développeurs, analyste de données, product managers, entrepreneurs etc.
Si vous voulez en savoir plus, participez à notre session d'information le 23 août. On vous présentera le programme détaillé, des informations sur le financement du programme, et on vous fera découvrir notre magnifique campus où se déroulent nos bootcamps. Ce sera également l'occasion de rencontrer en personne l'équipe du Wagon qui sera disponible pour répondre à toutes vos questions!
Nos prochaines sessions 👇
Développement Web
Temps plein 🇬🇧 | 3 octobre - 2 décembre, 2022
Temps plein 🇫🇷 | 3 octobre - 2 décembre, 2022
Temps partiel | 7 janvier - 15 juin, 2023
Science des Données
Temps plein | 3 octobre - 2 décembre, 2022
Temps partiel | 7 janvier - 15 juin, 2023