Open House - McKee-Pownall Rehabilitation and Reproduction Facility
About this Event
Everyone is welcome!
Amazing prize for the first 75 people!
Each Open House attendee will be entered into a draw to win FREE CALL FEES for one year within our practice territory. *some restrictions may apply
Come out for:
• Tours of the facility
• Meet and greets with our veterinarians
• Information Stations:
– Reproduction – Dr. Jim Welsh and Dr. Kyle Goldie
– Dental Extractions – Dr. Marisa Markey
– Laser Therapy - Natasha Ryckman, MPES Laser Technician
– Lameness Therapies – Dr. Ali Miletic
– Standing MRI
– Wellness Plans - Dr. Taylor Mahren
• Live Demonstrations:
– Acupuncture - Dr. Dubé and Dr. Turner
– VSMT - Dr. Markey
– Laser - demo on horses and people!
– Podiatry- Barney Cummings & Dr. Dubé
Fundraising Raffles:
• One Laser Treatment *
• One VSMT Treatment *
• One Acupuncture Treatment *
• Foaling Kit
• Emergency First Aid Kit
• 2 x Awesome Gift Baskets
*to be used within 1 year, within our territory or ship in to our facility
All proceeds from this event will be used to support the Canadian Cancer Society!
McKee-Pownall Canadian Cancer Society Donation Page
Wellness Plans
• Anyone who signs up for a 2020 Wellness plan at our Open House will receive their plan at 2019 prizes as well receive a bonus prize.
• In addition to the above, Existing Wellness plan members who sign up for a 2020 Wellness Plan at the Open House will also be entered into a draw to receive their Wellness plan for FREE!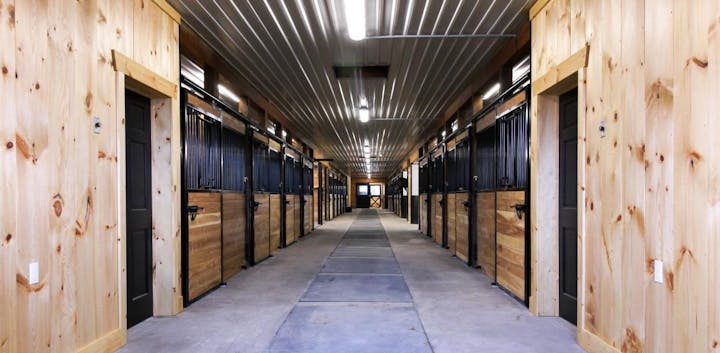 About Our Facility:
Whether your equine partner is recovering from surgery, an injury, or requires intensive medical management that is a challenge at home, our newly renovated facility offers everything you need to ensure safe, customized care under the guidance of our team of veterinarians and trained staff.
We are now offering advanced reproductive services: Embryo Transfer, Frozen and Fresh Cooled breedings as well as techniques for managing the sub-fertile mare.
Regenerative and rehabilitative services and therapies are available at the facility to help your athlete return to the ring with an advantage. RLT Laser Therapy, Acupuncture, VMST (Chiropractic Adjustments), Shockwave, tack and hand walking are all available.
Cases requiring daily veterinary care, supervision, bandage changes or frequent treatments will receive the attention they need to heal to their best possible outcome.
Farm and horse management, from proven professionals in the Show horse, Racing and Reproductive industries, will ensure your horse has the care a high-level performer deserves.