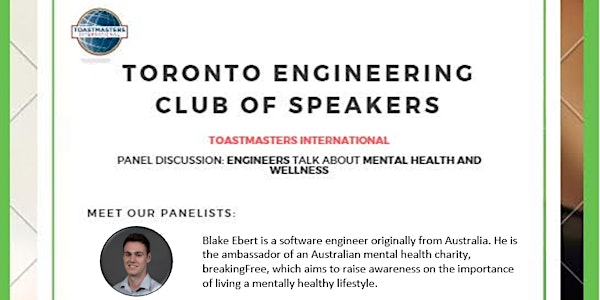 Open House Toronto Engineering Club of Speakers (TECS)
When and where
Location
Basement Lecture Hall, Toronto Rehabilitation Institute, University Health Network 550 University Avenue Toronto, ON M5G 2A2 Canada
Description
The Toronto Engineering Club of Speakers (TECS) is hosting a special event for our open house, a Panel Discussion on Mental Health and Wellness. We will also have a fun and interactive impromptu table topics session.
For this panel, we aim to discuss the stresses and mental health issues facing engineering students and professionals and the resources available to them. Our first set of panelists include an engineer and engineering student, Blake Ebert and Kemal Ahmed, who will share their personal experiences on mental health and how they overcame challenges they faced. Our second set of panelists include, Dr. Judith Laposa and Dr. Cory Weissman, experts in the field who conduct research on mental health and provide treatment. Dr. Weissman will speak about using brain stimulation techniques to treat suicide patients (and other disorders) and Dr. Laposa will speak about Cognitive Behavioural Therapy and Mindfulness. We also aim to destigmatize mental illnesses/disorders and foster a supportive community where we can openly discuss mental health issues in the same way we would for physical ailments. Join us in advocating mental wellness and discussing issues that affect us all in one way or another. Come see how Toastmasters is designed to help people develop their leadership and public speaking skills.
Dinner will be provided.