About this Event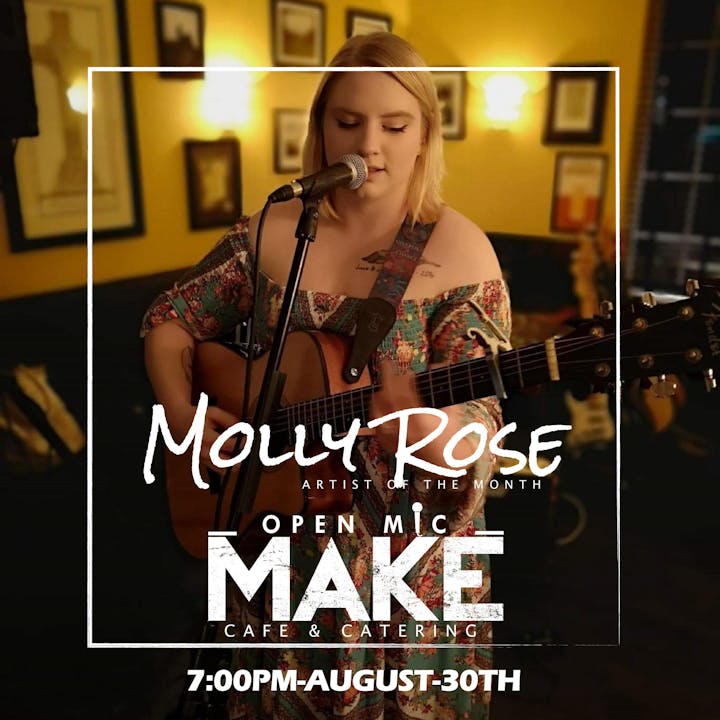 If you are a lover of poetry, spoken word, music, dance and would like to perform or simply be in good company with fellow artists and watch them perform then you don't want to miss the open mic this month at MAKE Cafe & Catering. Headlining our open mic for the month of August is Molly Rose.
Singer/song writer Molly Rose has been a dedicated part of the GTA music scene for the past 8 years. The Brampton native is know for her haunting words and mesmerizing guitar playing. Her words come from the soul and are sure to tug on the heart strings of anyone who has heard her music. Molly is currently focused on open mics at Cuchulainns irish Pub and Little London Cafe while she works on her upcoming album to be entitled Younger Days. . . . While we wait to be amazed by her stellar performance later this month, you can find some of her work on sound cloud - https://soundcloud.com/moopsiesmusic
If you live in the region and are looking to perform, send us a quick email at info@thetalentnextdoor.com including -
1. Your full name:
2. Stage Name (If applicable):
3. Name/Title/Description of your performance:
4. Technical specifications required for your performance (If applicable):
5. Short Bio (150 words or Less):
7. Social Media Links (If Applicable):
Confirmation emails will be sent out to performers who sign up via email. Your confirmation email will acknowledge your sign up and general housekeeping rules. While we will do our best to accommodate artists, PLEASE NOTE that sign-ups at the door may not guarantee a performance.
We are looking forward to seeing y'all and having a great show! For questions and or inquiries, please feel free to send them to info@thetalentnextdoor.com