About this Event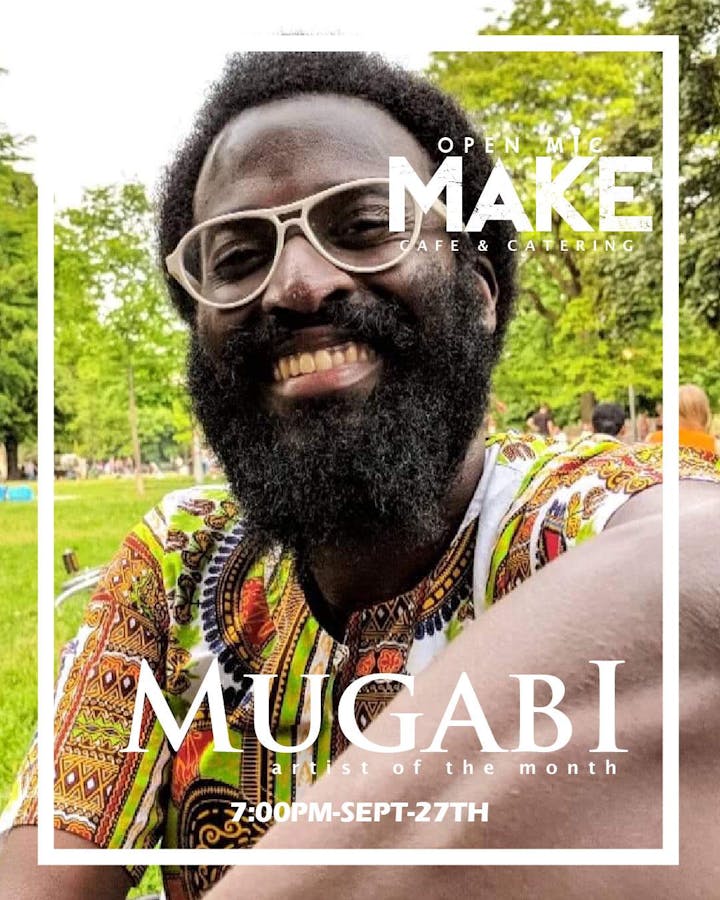 If you are a lover of poetry, spoken word, music, dance and would like to perform or simply be in good company with fellow artists and watch them perform then you don't want to miss the open mic this month at MAKE Cafe & Catering. Headlining our open mic for the month of September is Mugabi Byenka.
Mugabi Byenkya is a writer, poet and occasional rapper. He was born in Nigeria, to Ugandan parents and is currently based between Kampala and Toronto. Mugabi was longlisted for the Babishai Niwe Poetry Award in 2015. His essays and poetry have been published in The Good Men Project, African Writer, Arts and Africa and The Kalahari Review, among others. He has been interviewed on Voice of America, NTV Uganda, and Brittle Paper, among other media outlets.
Mugabi's writing is used to teach international high school English reading comprehension. His debut experimental epistolary novel, 'Dear Philomena,' was published in 2017 and he recently concluded a 42 city, 4 country North America/East Africa tour in support of this. In 2018, Mugabi was named one of 56 writers who has contributed to his native Uganda's literary heritage since independence by Writivism. Dear Philomena, was named a Ugandan bestseller in the same year.
Mugabi wants to be Jaden Smith when he grows up. You can read extensively about Mugabi and his work here - https://www.mugabibyenkya.com/
If you live in the region and are looking to perform, send us a quick email at info@thetalentnextdoor.com including -
1. Your full name:
2. Stage Name (If applicable):
3. Name/Title/Description of your performance:
4. Technical specifications required for your performance (If applicable):
5. Short Bio (150 words or Less):
7. Social Media Links (If Applicable):
Confirmation emails will be sent out to performers who sign up via email. Your confirmation email will acknowledge your sign up and general housekeeping rules. While we will do our best to accommodate artists, PLEASE NOTE that sign-ups at the door may not guarantee a performance.
We are looking forward to seeing y'all and having a great show! For questions and or inquiries, please feel free to send them to info@thetalentnextdoor.com