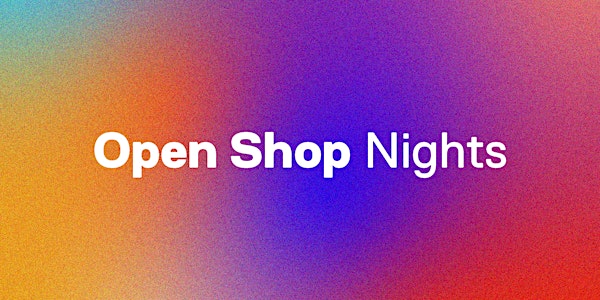 Multiple dates
OPEN SHOP - Winter 2023
Come to the DFZ's fabrication space for an Open Shop time!
By Design Fabrication Zone (DFZ)
Date and time
Wed, Jan 25, 2023 4:00 PM - Wed, Apr 12, 2023 6:30 PM EST
Location
Design Fabrication Zone (DFZ) 110 Bond Street Toronto, ON M5B 1X8 Canada
About this event
Looking to create in community with others? The DFZ opens the workshop to different identity groups on Wednesday evenings. Work on your projects, gain access to tools and workbenches and meet new people in the communities! Free and open to students, staff, faculty and the public! ⁠
We're here to support everyone in the design & fabrication industry! Do you craft, build, sew, code, woodwork, solder, quilt, etc? Knew it - stop by you cool cat! 😎 🙌🏾⁠
⁠👥 Who / ⏰ When: ⁠
Always 4:00 - 6:15PM EST on Wednesdays, with support from DFZ Staff ⁠
⁠
🎨 What: ⁠
Bring projects you're currently working on, ideas of projects you want to start, your friends & your curiosity. ⁠
During open shop you'll have access to the shops tools, DFZ staff know-how and small machines as well as any scrap material to help you with your crafting!⁠
⁠
🌎 Where: ⁠
The Workshop of The Innovation Studio, 110 Bond Street at Toronto Metropolitan University. ⁠
⁠
1st come 1st serve. Workshop capacity is 16. Email us for more info if needed at dfz@torontomu.ca
1st Wednesdays - All Access Open Shop - an evening for anyone & everyone!
2nd Wednesdays - The 2nd Wednesday of each month is BIPOC Open Shop: welcoming all fabricators who identify as people of colour!
3rd Wednesdays- The 3rd Wednesday of each month is Women's Open Shop: welcoming all creators who identify as women! See our other posts for more info on Open Shop nights.⁠
⁠
4th Wednesdays - The 4th Wednesday of each month, we open our workshop to all queer, gay, trans, two-spirited, lesbian, + community into our workshop! What's better than chilling with a crafty group of pals while you make your project or learn new things?⁠
About the organizer
Known for helping startups and creative projects apply best practices in design, the Design Fabrication Zone at Toronto Metropolitan University strategically propels early-stage inventions, businesses and installations through the stages from concept to prototype and mass manufacturing. The Zone offers members access to networking, mentorship, workshops, industry partnerships and cross-disciplinary collaborations. It also provides access to traditional and digital fabrication technologies so that members can prototype and evaluate their designs.