Location
Union House Arts
74 Main Road
Port Union, NL A0C 2J0
Canada
Drop by UHA for Open Studio with artists-in-residence, Andrew Testa, Michelle MacKinnon, and Kelsey Street!
About this event
Not unlike Makers Nights, Andrew, Michelle and Kelsey are opening up their studios for folks to drop by and hang out, learn a new skill, or share a skill!
We have more than enough supplies if anyone wants to make wooden spoons, try their hand at beadwork, or do watercolours along with us (and you can revisit come back as much as you like!).
Bring your own work or come hang out with the artists, and learn about their creative processes by making your own with the their tools/supplies! No experience required!
Public Studio Schedule:
Thursday April 28th – 7-9pm (Makers Night, register here)
Saturday April 30th – 1-4pm (Open Studio - ONLINE ONLY)
Wednesday May 4th – 1-4pm (Open Studio)
Thursday May 5th – 7-9pm (Makers Night, register here)
Wednesday May 11th – 1-4pm (Open Studio)
Thursday May 12th – 7-9pm (Makers Night, register here)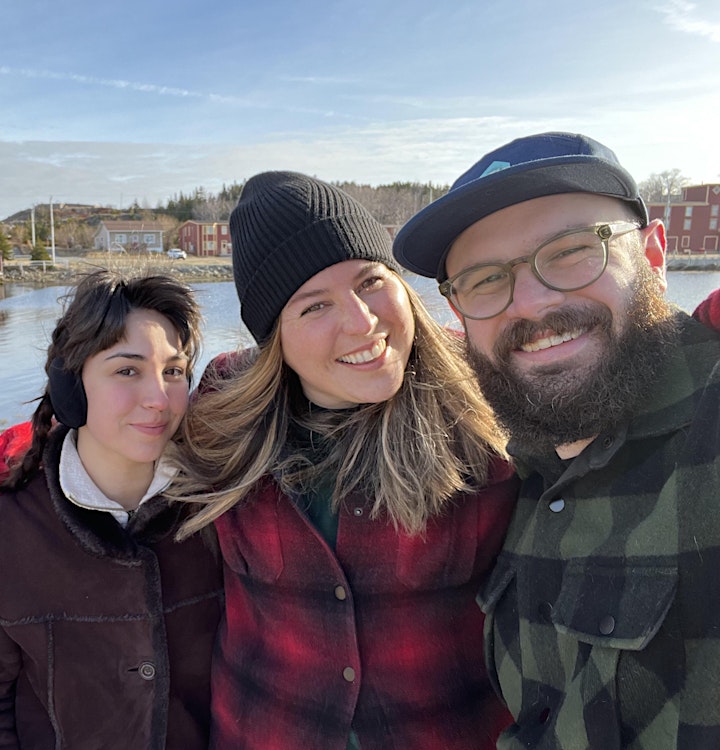 Kelsey Street is a L'nu artist from Elmastukwek, Ktaqmkuk Territory (Bay of Islands, NL). She has an interdisciplinary arts practice working in a variety of forms such as beadwork, textile/craft, printmaking processes, and site-specific performance/installation. Within her practice, Street navigates ways of connecting to her Newfoundland settler and Indigenous heritage, often exploring themes of community, home, and resettlement. Street graduated with a BFA in Visual Arts from Memorial University of Newfoundland (2019) and has participated in exhibitions including the Tina Dolter Gallery, PULP Gallery, Grenfell Art Gallery, and Craft Council in Newfoundland and Labrador. Street is currently a small business owner/maker based in St.Johns, NL, and is the Director of Programming for CbNuit art Festival.
Andrew Testa is an artist, writer and educator working through printmaking, drawing, books, words, sounds, installations and collaborations, currently living and working in Ktaqmkuk, also known as Newfoundland. He has been awarded ArtsNL, SSHRC, a VP Grenfell Research Grant, and the Elizabeth Greenshields Foundation grant for his research, has exhibited nationally and internationally, and has participated in residencies and conferences across Canada. Testa has recently shared his work in solo exhibition at The Rooms Provincial Art Gallery in St. John's, NL, and at SNAP artist-run-centre in Edmonton, AB. His recent collaboration, Printshop in a Box, has been awarded a Canada Council for the Arts Grant, and he has upcoming collaborative residencies exploring community knowledge sharing at Union House Arts, Port Union, NL and CASA, Lethbridge, AB. Testa is the Chair of the Board of Directors at St. Michael's Printshop and is an Assistant Professor in printmaking at Grenfell Campus, Memorial University of Newfoundland. Testa has additionally taught at Thomson Rivers University in Kamloops, BC, and at Algoma University in Sault Ste. Marie, ON. He completed his BFA and MFA at York University in Toronto, ON.
Michelle MacKinnon is an artist and educator living in Corner Brook, Newfoundland & Labrador. MacKinnon graduated with an MFA (2015) and BFA (2013) in Visual Arts from York University. She has participated in residencies at Union House Arts (NL), Grenfell Art Gallery (NL),The Banff Centre for the Arts (AB), The Hermitage (RU), and Spark Box Studios (ON). She has exhibited in various galleries nationally and internationally, including The Grenfell Art Gallery (NL), The Rooms (NL), Eastern Edge (NL), Modern Fuel (ON), and the The Hermitage (RU), has received funding from ArtsNL and the Ontario Arts Council, and is a three-time recipient of the Elizabeth Greenshields Foundation Grant. MacKinnon is currently an instructor at Memorial University of Newfoundland, Grenfell Campus and has previously taught at York University (ON) and Algoma University (ON).