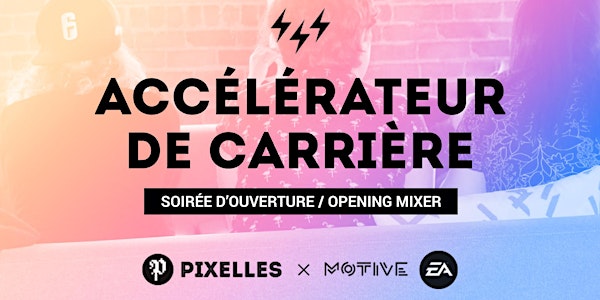 Opening Mixer ★ Pixelles Career Accelerator
You're invited to the Opening Mixer for the Pixelles Career Accelerator! Have a drink, appetizers, meet other mid-career devs & hear more...
When and where
Location
Motive Studios - EA Montréal 2200 Rue Stanley, 6th floor Montréal, QC H3A 1R6 Canada
About this event
In celebration of our new Career Accelerator program, we're excited to host a mixer, with EA Motive Studio, for mid-career women, non-binary and genderqueer game developers. Create new connections, have a drink & bouchée, meet the program coordinators and learn more about the Pixelles Career Accelerator.
We'd love to see you at our Opening Mixer whether you're a future applicant, past alumni, curious or just want to socialize with other game developers.
Children are welcome but must be accompanied by an adult.
[ !! ] Tickets are mandatory. Help us ensure that there is enough food and drinks for everyone by RSVPing to the mixer. Thank you ♡
------------------------
WHAT IS THE CAREER ACCELERATOR?
The Career Accelerator program aims to help game developers with 5+ years who experience gender discrimination and want to advance in the games industry - this includes cis and trans women, trans men, and nonbinary/genderqueer people. We want to help augment your support networks and exchange knowledge with a select group of your industry peers who are going through similar experiences, in facilitation with Gamma HR.
Bring all your questions, concerns and suggestions. Program coordinators will be available for 1-on-1 chats.
More information about the program and application: http://pixelles.ca/mentorship-program/career-accelerator/
------------------------
ACCESSIBILITY
The venue has ramp access and elevators.
Due to construction, the entrance with a ramp is not that intuitive. If you require ramp access or have other accessibility needs please email us at info@pixelles.ca.
--------
Nous vous invitons à assister notre première soirée pour l'accélérateur de carrière Pixelles ! Venez prendre un verre et déguster quelques hors-d'œuvre, faire de nouvelles connaissances et apprendre davantage sur notre programme.
À PROPOS DE L'ÉVÉNEMENT
Pour célébrer notre nouvel accélérateur de carrière Pixelles, nous sommes ravies d'organiser cette soirée d'ouverture avec EA Motive Studios, pour les développeurs de jeu mi-carrières qui ont vécu de la discrimination fondée sur le genre de manière importante. Venez faire de nouvelles connaissances, prendre un verre avec quelques hors-d'œuvre, rencontrer les coordinatrices du programme et vous familiariser avec l'accélérateur de carrière Pixelles.
Nous serons ravies de vous voir, que vous soyez une ancienne Pixelle, que vous pensez postuler cette année, que vous soyez curieu∙x∙se, ou que vous voulez simplement passer une soirée agréable avec vos collègues dans l'industrie du jeu.
Les enfants sont les bienvenues, mais nous exigeons que les enfants restent sous la supervision d'un∙e adulte en tout temps.
[!!] Les billets sont obligatoires. Aidez-nous à garantir assez de nourriture et de boisson pour tout∙e∙s les invité∙e∙s en vous inscrivant ici à la soirée. Merci ♡
QU'EST-CE QUE L'ACCÉLÉRATEUR DE CARRIÈRE ?
L'accélérateur de carrière Pixelles vise à soutenir les développeurs de jeu vidéo avec plus de 5 ans d'expérience dans l'industrie qui subissent la discrimination fondée sur le genre dans leur vie professionnelle. Ceci inclut les femmes trans et cis, les hommes trans, ainsi que les personnes nonbinaires et fluides dans le genre. Nous voulons combler les réseaux de soutien des participant∙e∙s et promouvoir les échanges de connaissances en formant un groupe privilégié de professionnels dans l'industrie qui vivent des expériences semblables, facilité par Gamma HR.
Apportez toutes vos questions, commentaires et suggestions. Les coordinatrices du programme seront disponible pour des conversations en tête à tête.
Pour davantage d'information sur le programme et la demande : http://pixelles.ca/fr/mentorship-program/career-accelerator/
POLITIQUE D'ACCESSIBILITÉ
Le site de l'événement est équipé avec une rampe d'accès destinée et des ascenseurs.
À cause de la construction, l'entrée avec la rampe n'est pas évidente. Si vous avez besoin de la rampe ou avez besoin d'autres accommodements, nous vous prions de nous envoyer un courriel à info@pixelles.ca.