Description
On September 16th from 4:00pm-6:00pm join us for the Opening Reception of BAM 2018 and be among the first to see remarkable and thought-provoking works by artists with Latin American heritage on three themes: Solidarity, Roots Revival and Gender Freedom.
Meet the artists, enjoy cocktails (mojitos and caipirinhas!), mocktails, and wines! Bring your friends and family and have an amazing time! All are welcome at this free event.
BAM is a week-long arts exhibition featuring the work of emerging Artists of Latin American heritage. Join us and connect with your community through art, music and spoken word.
Everyone is welcome! After the opening, the Exhibition will remain open to the public everyday from 9am to 9pm and it is free. For more information, go to http://www.casapueblito.org/bam-2018/
Featured Artists (find out more here):
Andrea Bermúdez

Mariana Bolaños

Jasmine Cardenas

Vero Díaz

Andre López

denirée isabel mendoza

Camila Salcedo Guevara

Claudia Arana

Mao Correa

OLAS York Univeristy Arts Installation

SickMuse Art Projects
BAM is a project of Casa-Pueblito. Our vision is compassion and social justice accross borders. Visit www.casapueblito.org.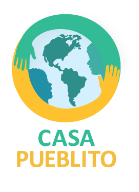 Many thanks to our BAM Founding Sponsor Meridian Credit Union