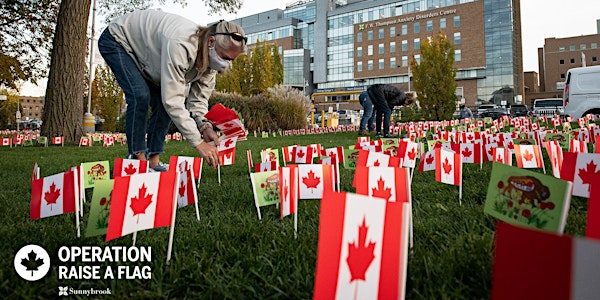 Operation Raise A Flag
Volunteer for Operation Raise a Flag
When and where
Location
Sunnybrook Health Sciences Centre 2075 Bayview Avenue Toronto, ON M4N 3M5 Canada
About this event
Thank you for your interest in planting flags as part of Operation Raise a Flag on Thursday, November 10. Throughout the day, over 30,000 flags will be planted on the Sunnybrook grounds creating a patriotic sea of red and white. Our veterans will awaken on Remembrance Day knowing that you care about their great sacrifice.
Community volunteers are invited to plant flags between 5:00pm and 7:30pm on Thursday, November 10. You will need to select a desired check in time by clicking the "select a time" button. Each volunteer will be given 100 flags to plant which will take approximately 30 to 45 minutes.
SAFETY PROTOCOLS
We are pleased to welcome volunteers from the community back to plant flags again this year in a limited capacity. A portion of flags will be planted earlier in the day by Sunnybrook staff.
It is recommended that all volunteers attending Operation Raise a Flag are vaccinated against COVID-19. Marks will not be required during the outdoor flag plant but will be required when entering the hospital. Any updates regarding safety protocols will be communicated via email prior to November 10.
Children under the age of 12 will require adult supervision. We welcome youth groups like Scouts, Guides and Cadets to plant flags. If you are organizing a youth group as volunteers, please keep this in mind as you may need to enlist the support of additional volunteers.
To volunteer, please complete the form on the next page. After signing up you will receive your volunteer information package before November 10.