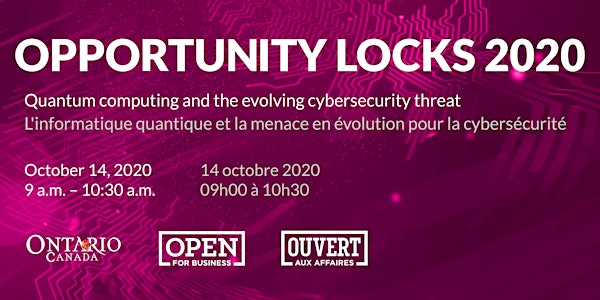 Opportunity Locks 2020
In honour of CYBERSECURITY AWARENESS MONTH, the Government of Ontario is pleased to invite you to OPPORTUNITY LOCKS 2020.
About this event
As technology continues to evolve, so do the opportunities and challenges it provides. We are at a crossroads as we move from a society already entwined with the threats of data and security breaches, to the coming age of quantum computing. Quantum technology is poised to transform cybersecurity as we know it today with increased computer processing speeds that will unravel common algorithms used in encryption and security data. But while this poses obvious challenges, with proper planning, the opportunities are immense.
In honour of Cybersecurity Awareness Month (CSAM), the Ministry of Economic Development, Job Creation and Trade (MEDJCT) is pleased to invite you to the must-attend webinar of the year, the third annual OPPORTUNITY LOCKS.
This year's theme is "Quantum Computing and the Evolving Cybersecurity Threat". This is your chance to virtually connect with peers and meet industry icons from the quantum technology and cybersecurity space.
Login via Zoom: https://zoom.us/j/97878627815?pwd=bWZCV1dMWTRlRmZFK2hMbXRwcSttdz09
PASSCODE: 038975
AGENDA
9:00 A.M. OPENING REMARKS
Trevor Dauphinee, Assistant Deputy Minister, Industry and Sector Strategy Division, Ministry of Economic Development, Job Creation and Trade
9:05 A.M. KEYNOTE SPEECH – The Quantum Impact on Cybersecurity
Professor Michele Mosca, Co-Founder and CEO, evolutionQ
Quantum computing represents a complete shift in approach from that of traditional computing. The technology will enable industries to solve mainstream business problems at speeds once thought impossible. At the same time, quantum computing introduces its own set of challenges by introducing new ones we haven't been seen before.
Dr. Mosca has made major contributions to the theory and practice of quantum information processing and quantum cryptography. He and his collaborators have developed fundamental methods for performing reliable computations with untrusted quantum apparatus while using optimal methods for encrypting quantum information.
Dr. Mosca will deliver a lively keynote on the topic of "The Quantum Impact on Cybersecurity" using real world examples of how he and is his team are working to solve potential risks related to the implementation of quantum processing.
9:20 A.M. PANEL: INDUSTRY LEADERS – The Evolution of Cybersecurity in the Age of Quantum
The quantum threat to cybersecurity can be mitigated by deploying new cryptographic tools that are believed or known to be resistant to quantum attacks. Nonetheless, the transition to quantum-safe cryptography is a challenge itself, as it requires the development and deployment of hardware and software solutions, the establishment of standards, the migration of legacy systems, and more. Our panel members will examine and explore how to turn these challenges into quantum opportunities.
Mike Brown, CTO and Co-Founder, ISARA Corporation
Bruno Couillard, President and CEO, Crypto4A Technologies, Inc.
Mary Horrigan, Senior Security Architect, 2Keys Corporation
Dr. Vladimir Soukharev, Principal Cryptographic Technologist & Chief Post-Quantum Researcher, Infosec Global Canada
MODERATOR: Brian O'Higgins, Chairman, Quantum-Safe Canada
10:20 A.M. Q&A – Innovative Approaches to Cybersecurity in the Quantum Age
Deb Clark-Forster, Senior Advisor, Industry and Sector Strategy Division, Ministry of Economic Development, Job Creation and Trade
10:30 A.M. CLOSING REMARKS
Please contact Deborah Clark-Forster (deborah.clark-forster@ontario.ca) if you have any questions.
#OpportunityLocks2020 #CSAM #InvestInOntario
La technologie continue d'évoluer, tout comme les occasions et les enjeux qu'elle présente. Nous sommes à un carrefour, alors que nous passons d'une société déjà aux prises avec des menaces d'atteinte à la sécurité informatique et aux données à la nouvelle ère de l'informatique quantique. La technologie quantique est sur le point de transformer la cybersécurité comme nous la connaissons aujourd'hui grâce à des vitesses de traitement accrues qui permettront de déchiffrer les algorithmes couramment utilisés pour le chiffrement et les données de sécurité. Bien que ces innovations posent des difficultés évidentes, avec une bonne planification, les possibilités sont toutefois immenses.
À l'occasion du mois de la sensibilisation à la cybersécurité (MSC), le ministère du Développement économique, de la Création d'emplois et du Commerce (MDECEC) est heureux de vous inviter à assister au webinaire incontournable de l'année, le troisième événement annuel OPPORTUNITY LOCKS.
Il se tient cette année sous le thème : « L'informatique quantique et l' évolution de la menace en matière de cybersécurité ». Vous aurez ainsi la chance de vous connecter virtuellement à vos pairs et de rencontrer des icônes des secteurs de la technologie quantique et de la cybersécurité.
Via Zoom: https://zoom.us/j/97878627815?pwd=bWZCV1dMWTRlRmZFK2hMbXRwcSttdz09
CODE: 038975
PROGRAMME
9 h MOT D'OUVERTURETrevor Dauphinee, sous-ministre adjoint, Division des stratégies pour les industries et les secteurs, ministère du Développement économique, de la Création d'emplois et du Commerce
9 h 05 DISCOURS PRINCIPAL – L'incidence de la technologie quantique sur la cybersécurité Professeur Michele Mosca, cofondateur et chef de la direction, evolutionQ
L'informatique quantique adopte une démarche complètement différente de celle de l'informatique traditionnelle. Elle permettra aux industries de résoudre des problèmes opérationnels courants à des vitesses que l'on croyait autrefois impossibles. Parallèlement, l'informatique quantique comporte son propre lot de problèmes en introduisant des enjeux que nous n'avions jamais vus.
M. Mosca a grandement contribué à la théorie et à la pratique du traitement quantique de l'information et de la cryptographie quantique. Il a, avec ses collaborateurs, mis au point des méthodes fondamentales permettant d'effectuer des calculs fiables avec des appareils quantiques non sécurisés, tout en utilisant des méthodes optimales de chiffrement des données quantiques.
M. Mosca prononcera un discours stimulant sur « l'incidence de la technologie quantique sur la cybersécurité » en utilisant des exemples réels de la façon dont son équipe et lui s'emploient à résoudre les risques potentiels liés à la mise en œuvre du traitement quantique.
9 h 20 GROUPE D'EXPERTS : CHEFS DE FILE DE L'INDUSTRIE – L'évolution de la cybersécurité à l'ère quantique
La menace de l'informatique quantique à la cybersécurité peut être atténuée en déployant de nouveaux outils cryptographiques qui sont considérés ou reconnus comme résistants aux attaques quantiques. Néanmoins, la transition vers la cryptographie à résistance quantique est un défi en soi, car elle exige la mise au point et le déploiement de solutions matérielles et logicielles, l'établissement de normes, la migration des systèmes existants et plus encore. Les membres de notre groupe d'experts examineront et exploreront la façon de transformer ces défis en occasions quantiques.
Mike Brown, fondateur, chef de la technologie et cofondateur, ISARA Corporation
Bruno Couillard, président et chef de la direction, Crypto4A technologies, Inc
Mary Horrigan, architecte principale de la sécurité, 2Keys Corporation
Vladimir Soukharev, Ph. D., technologue principal de la cryptographie et chercheur post-quantique en chef, Infosec Global Canada
MODÉRATEUR : Brian O'Higgins, président, Quantum-Safe Canada
10 h 20 PÉRIODE DE QUESTIONS – Démarches novatrices en matière de cybersécurité à l'ère quantique
Deb Clark-Forster, conseillère principale, Division des stratégies pour les industries et les secteurs, Ministère du Développement économique, de la Création d'emplois et du Commerce
10 h 30 MOT DE LA FIN