#OpportunityJam Durham: Sep 19, 2015

Saturday, 19 September 2015 from 9:00 AM to 5:00 PM (EDT)
Event Details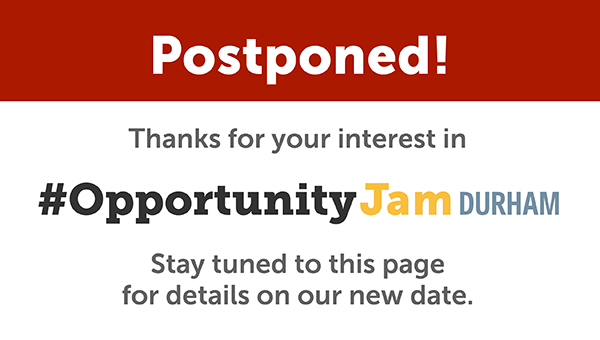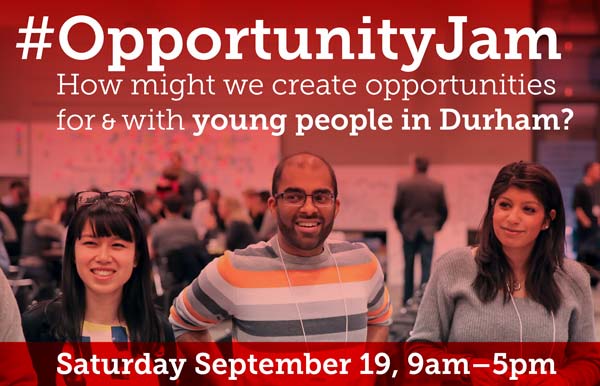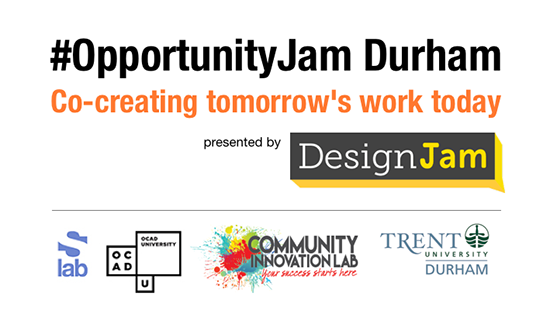 Come gain a deeper appreciation of your creative capabilities to generate meaningful work, employment, & startup opportunities. Discover & create novel solutions for your self, employer, community, and environment.
========================================================================
Facilitators, Mentors & Influencers
We will be led by educators & community influencers from Durham & the GTA.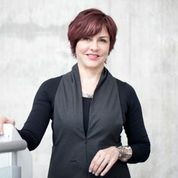 Petra Kassun-Mutch (@EveVolutionGirl) is a serial entrepreneur & social enterprise advocate with two decades in the cultural industries. Petra is strategic advisor & former executive director of Imagination Catalyst, OCAD University's incubator, where she re-designed work to support & coach entrepreneurs in "the art of the start." Prior to OCAD U Petra was first entrepreneur in residence at Guelph U, & founding CEO of award-winning Fifth Town Artisan Cheese Company -- combining her passion & acumen for business, marketing, sustainability & social enterprise.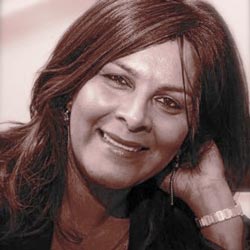 Pramilla Ramdahani (@Pramilla9) is co-founder & executive director of Oshawa-based Community Innovation Lab (CommunityiLab), designed & dedicated to equip young people for creative startup opportunities, work experience & community transformation. She's piloted programs in partnership with Durham Ideas Den, NEET Youth Incubator & Social Enterprise Lab. Pramilla teaches social innovation at Trent U Durham & at Arthur Lok Jack Grad School of Business, U West Indies. Pramilla has degrees in Community Economic Development & Sociology and training in Social Entrepreneurship at Stanford.

Patricia Kambitsch (@playthink) is a graphic recorder, artist & founder of Visual Thinkers Toronto, a cross-disciplinary community working to expand capacity in visual communication. Kambitsch is partner in Redesign Network, a design & research firm for human systems innovation. Former classroom teacher for over twenty years in urban public schools, she helped found one of the first Gates Foundation-funded early college high schools for low-income youth in Dayton, Ohio.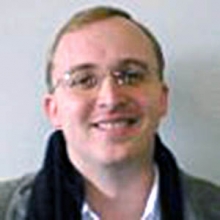 Antony Upward (@aupward) is a certified management consultant with 26 years in design and implementation of management information systems for Apple, Bell Canada, CGI, AT&T and others. Anthony is co-founder of sLab's Strongly Sustainable Business Model Group (SSBMG). He is a sustainability business architect, principal of Edward James Consulting Ltd., a flourishing enterprise design consultancy in Toronto, and a recent grad from York U with a Masters of Environmental Studies in business model design & sustainability.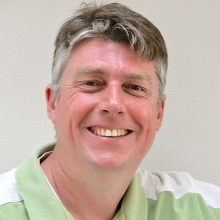 Stephen Davies (@XformbyDesign) is managing director of Transformation by Design, a business design consultancy based in Toronto, powered by 25+ years of management consulting experience across sectors. Mr. Davies teaches strategy development in OCAD University's MDes in Strategic Foresight & Innovation program. He is a certified master designer & facilitator for the Team Syntegrity process invented by professor Stafford Beer, founder of management cybernetics.

Farrah-Marie Miranda (@farrah_miranda) is an artist, educator & consultant using public art, research & design thinking to impact lives of young people, workers & immigrants. She's founder of Mass Arrival, a critically acclaimed performance, installation & new media project that challenges illegality surrounding migrant boat arrivals to the West. Her writing & reviews of her work have appeared in Wildfire: Art as Activism, Canadian Art, Toronto Star, FUSE, and Border Criminologies, Rabble & In the Wake of Komagatamaru: TransPacific Migration, Race and Contemporary Art. Farrah is currently a Masters of Environmental Studies candidate at York U.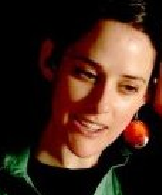 Erin Howley is an educator & artist who works with installation art to build relationships & deepen engagement within & among organizations & collectives. With more than a decade of work at the intersection of critical pedagogy & community arts, Erin has led diverse programming in prisons, universities & social service settings. She holds a BEd in Adult Education & Conflict Resolution from Temple U in Philadelphia & has completed studies at University of Chicago. Erin's current research in Masters of Environmental Studies at York U focuses on arts-based education & addiction.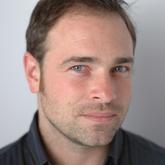 Patrick Robinson (@conferencejunki) is a socially-minded design thinker. Patrick works to elevate & activate a betterment agenda with industry & educational leaders. Patrick is on the executive committee for Toronto+Acumen, & is campus director for  HultPrize @OCAD U, where he's also been undergrad instructor. Currently, Patrick is MDes candidate in strategic foresight & innovation at OCAD U.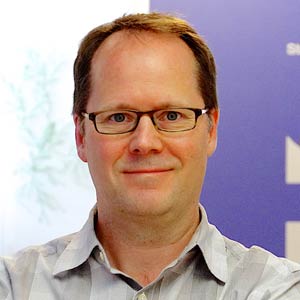 Greg Van Alstyne (@gregvan) is a designer, teacher, researcher, futurist and co-founding director of Strategic Innovation Lab (sLab) at OCAD U, with thirty years practice in strategic communications & experience design. Prior to OCAD U Greg was founder of the Department of New Media at MoMA, New York, creative director at IconNicholson NY, & first director of the Institute without Boundaries (IwB).
========================================================================
Workshop choices include:
Auditing Your Assets: Personal & Collective Agency
Mapping Opportunity: Imagination & Visual Thinking
Human-Centred Design: Developing Empathy
Designing Flourishing Business: Social Entrepreneurship
========================================================================
Schedule
9:00 –10:30 am       Welcome, Orientation, Lightning Talks
10:30 –12 am          Morning Workshops
12:00–1:10 pm        Food, Fuel and Music (Lunch provided)

1:10–1:30                 Lightning Talks
1:30–3:00 pm          Afternoon Workshops
3:30–4:00 pm          Workshop Reports by Facilitators
4:00– 4:30 pm         Connecting the Ecosystem: InnovationLab & more
4:30–5:00 pm          Relationship building: co-creating your future
========================================================================
Attendance is FREE with refundable $35 deposit
Registration is first come, first served to a maximum of 100. Registration requires $35 credit card deposit. ALL ATTENDEES ARE WELCOME. No credit card? Please contact us: designjam@ocadu.ca
If unable to attend let us know at least 24 hours in advance. Failure to do so will result in loss of your deposit. You must complete a post-workshop survey within four (4) days of event to receive your deposit refund. Refundable deposit reduces no-shows – it's a proven way to ensure attendance / timely cancellation. 
========================================================================
Organized by Strategic Innovation Lab (sLab) in partnership with Community Innovation Lab (Oshawa) and Trent University Durham with support from OCE & ONE.
We draw from methods and insights developed in OCADU's Strategic Foresight & Innovation (SFI) community, a unique graduate program creating new kind of designer: a strategist who sees the world from a human perspective and re-thinks what is possible; an innovator who imagines, plans and develops a better world.
Questions about #OpportunityJam Durham? Contact sLab (Strategic Innovation Lab)
========================================================================
When & Where

Trent University Durham
55 Thornton Road South
Free parking. Registration: Lobby
Oshawa, ON L1J 5Y1
Canada

Saturday, 19 September 2015 from 9:00 AM to 5:00 PM (EDT)
Add to my calendar
Organizer
Strategic Innovation Lab (sLab) is a centre for research and innovation at OCAD University. sLab integrates applied research, professional engagement, education and skills development to assist private, public, and not-for-profit organizations attain their goals. sLab trans-disciplinary teams draw on the growing SFI community of researchers and practitioners, design and business professionals, teachers and students, who are passionate about creative economies and sustainable futures. slab.ocadu.ca