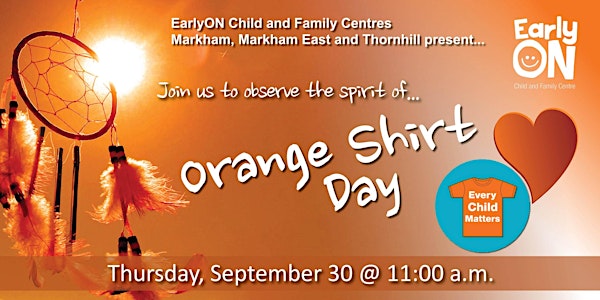 Orange Shirt Day - A Community Gathering via Zoom
Join us for a community gathering to commemorate Orange Shirt Day...featuring drumming, singing and storytelling with puppets!
About this event
FOR CHILDREN 0-6 YEARS
On September 30th, EarlyON Markham, EarlyON Markham East and EarlyON Thornhill, in collaboration with Indigenize Our Minds Education Program, will honour the spirit of Orange Shirt Day, also known as National Day of Truth and Reconciliation. Observing this day is an important step in the reconciliation process. It provides an opportunity to recognize and commemorate the tragic history and ongoing legacy of residential schools, and to honour their survivors, their families and communities.
Join us for a community gathering...
You and your child are invited to join us to for a spirited hour of drumming, singing and Orange Shirt storytelling...with puppets!
Jayden and Wyatt of Indigenize Our Minds Education Program will sing songs, incorporating "The Orange Shirt" story book using puppets. Children will also learn about the colours that children see and how to dance to maintain focus. If time allows, there will be a question and answer period before the program closes.
When? Thursday, September 30 - 11:00 a.m. - 12:00 p.m. noon
About Jayden Wemigwans
Annii. Jayden Wemigwans is a 19-year-old youth leader from the Wikwemikong First Nation in Ontario and the Grand Prairie Alberta West Region. Throughout his life, Jayden has been singing and dancing and practising his culture, and travels to many pow wows across Turtle Island, learning many different teachings and styles of being a good role model to others. Jayden loves to dance and sing in the healing of others, and joins EarlyON today bringing good energy and a good feeling, to share songs and teachings with you.
About Wyatt Bell
Wyatt has been actively involved in supporting numerous ceremonies as a singer. He has been to many parts of North America as a singer and Grass dancer and has also supported ENAGB (Eshkiniigjik Naandwechigegamig – A Place for Healing Our Youth) Indigenous Youth Agency in Toronto teaching and singing to the children during EarlyON programming. Wyatt continues to uphold his ancestral teachings and is active in hunting, fishing, and many other areas of Anishinaabe life skills. Wyatt believes it's an honour to share the gift of singing with both the young and the elderly.
About Orange Shirt Day / National Day of Truth and Reconciliation
Orange Shirt Day, recently also declared National Day of Truth and Reconciliation, is traditionally observed on September 30. Orange Shirt Day is about promoting awareness and educating Canadians about the Indian residential school system and the impact it has had on Indigenous communities for over a century. The Canadian Government is committed to reconciliation and ensuring that the tragic history and ongoing legacy of residential schools is never forgotten. To learn more about:
Orange Shirt Day: https://www.orangeshirtday.org/
National Day of Truth and Reconciliation: https://www.canada.ca/en/treasury-board-secretariat/services/information-notice/national-day-truth-reconciliation.html
IMPORTANT NOTES
Online, Via Zoom: This program will be brought to you via Zoom, a web-based video conferencing tool that will allow us to bring virtual programming into your home. Participants will be required to have access to the internet and to install the Zoom app or to have access to Zoom prior to the start of the program.
A Zoom link will be provided approximately one hour prior to the class.
Important Information About Eventbrite and Zoom: By registering for this program, you have provided your consent to EarlyON/Family Day to use Eventbrite and Zoom to facilitate your participation in the Parent/Child program for which you are registering. Please note that EarlyON Child & Family Centre Thornhill uses registration information for program planning and education purposes, to better meet your needs. Please ensure that your Zoom User Name does not include personal information other than your name, and be aware that Zoom is a third party platform and that personal information used to register or log into Zoom service is not under EarlyON Thornhill's control.
Photo/Video Consent: EarlyON Thornhill will email a photo/video consent form to each family registering for this program. The form will give or deny permission to EarlyON/Family Day to use photos/videos taken by EarlyON staff or their representatives, of your child participating in our programs. The photos/videos would be used for limited purposes within the EarlyON/Family Day environment. Full details will be provided in the Photo Consent Form.