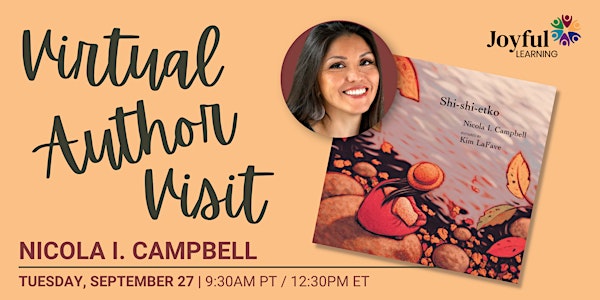 Orange Shirt Day Event ON DEMAND | Author Visit with Nicola Campbell
Join us for a special Orange Shirt Day author visit with Nicola I. Campbell, author of Shi-shi-etko and Shin-chi's Canoe!
About this event
During this event Nicola reads her books Shi-shi-etko and Shin-chi's Canoe and leads us in a brief, child-friendly discussion on the themes of Orange Shirt Day and Truth & Reconciliation. While this event is specifically designed for students in Grade 2-5, everyone is welcome!
This event was recorded live on Tuesday, September 27, 2022. The recording is now available on demand to watch at a time that works best for you!
Event Details
RECORDED LIVE ON: Tuesday, September 27 @ 9:30am PT
LENGTH: 50 minutes
DESIGNED FOR: Grade 2-5 – Everyone Welcome
About The Author
Nicola I. Campbell is a renowned Canadian children's book author known for her books Shi-shi-etko and Shin-chi's Canoe. She is Interior Salish and Metis and grew up in British Columbia's Nicola Valley. Many members of her family, including her grandfather and mother attended residential schools. Her books have won many awards including the TD Book Prize, the Marilyn Baillie Award and the Anskohk Aboriginal Children's Books of the Year.
Companion Teaching Resources
We have created a collection of companion teaching resources to save you time and help you make the most of your virtual experience with us. Our free Orange Shirt Day Resource Package featuring lessons written by Adrienne Gear can be found HERE. All other companion teaching teaching resources can be found HERE.
Tickets by Donation
Your generous donation will be used to support the ongoing development of our Indigenous Voices series of events and resources.  Reserve one ticket per class or family. Please select a rate that is possible for you. If you wish to purchase a tickets on behalf of your colleagues or entire school, purchase one ticket by calculating your per-class donation and indicating on the order form how many total students will be participating.
Visit our Event FAQ page for more information on tickets and event logistics.