Event Information
Refund Policy
Contact the organizer to request a refund.
Eventbrite's fee is nonrefundable.
Pierde el miedo y conquista a cualquier público en 7 semanas!
About this Event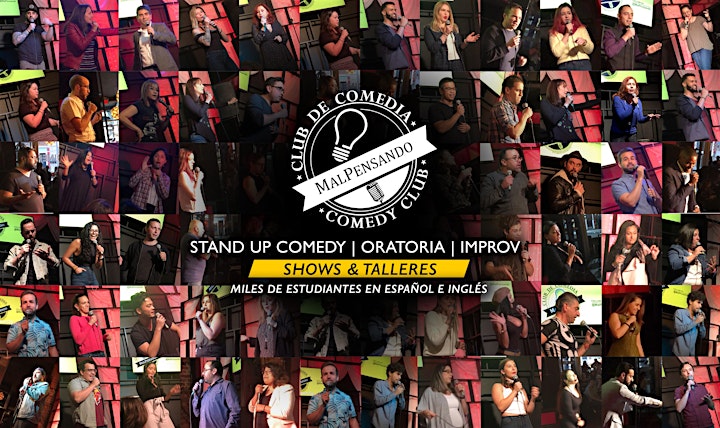 (Online) TALLER: ORATORIA A TRAVÉS DE LA COMEDIA
El propósito del taller es conquistar el miedo a hablar en público usando la comedia como herramienta de comunicación. ¡Sin duda te convertirás en un(a) orador(a) divertido(a), auténtico(a) y con mayor autoconfianza!
Aprenderás 22 Tips & Técnicas de Oratoria y Cómo:
Comunicarte Efectivamente
Conquistar y Hacer Reír a Cualquier Público
Controlar Tus Nervios
Hacer Que El Público Te Recuerde
Interactuar Con Tu Audiencia
Prepararte Efectivamente Antes De Cualquier Presentación
Inversión: CAD $450 (USD 340 Equiv.)
Duración: 7 semanas incl. Show de Graduación (8 sesiones*)
*Include 1 sesión personalizada (privada) con retroalimentación/feedback detallada. También recibirás feedback personalizado a través de todo el curso.
Fecha Inicio: Martes 30 de marzo
Hora: Los Martes | 6:30pm a 9:30pm (Hora Toronto EST)
Lugar: Llamada via Zoom
Tamaño por clase: Max 12 estudiantes, para asegurar atención personalizada.
Show de Grad: En la 7ma semana habrá una "Noche de Comedia" (Online) donde los integrantes del taller exhibirán su material al público (set de 5 minutos).
PREGUNTAS FRECUENTES
No quiero hacer el show de graduación. ¿Me tengo que graduar?
R: La idea es que sí hagas el show de graduación pero no te podemos obligar. Nuestro consejo es únete al taller y en el transcurso del curso tú decides. Cientos de estudiantes se metieron con miedo y los vencieron en la graduación. Esa noche es importante porque se pone en práctica todo lo aprendido a lo largo de las 7 semanas.
¿Qué pasa si pierdo una clase (o dos) por viajes y/o trabajo?
R: No hay ningún problema. La sesión será subida a YouTube en un link privado para que puedas ver tu clase en tu propio tiempo y estés el día.
Yo no soy chistoso(a). ¿Para qué me voy a meter a una clase de stand up comedy?
R: El stand up comedy NO es contar chistes. No tienes que saberte chistes. Es más, entre más introvertido(a) seas, mejor! Este curso te ayudará a ser un(a) gran orador(a) siendo 100% tú mismo(a) y te enseñará a crear comedia a través de tus vivencias, tragedias y cotidianidad. Después de este curso, te irá INCREÍBLE en cada presentación. Pero no nos creas a nosotros, créele a nuestros estudiantes! Mira sus testimonios aquí: https://www.malpensando.com/testimonials
Si tienes preguntas adicionales, escríbenos un email a info@malpensando.com y agréganos en Instagram @stephandyer @juan_cajiao_comedy @malpensando!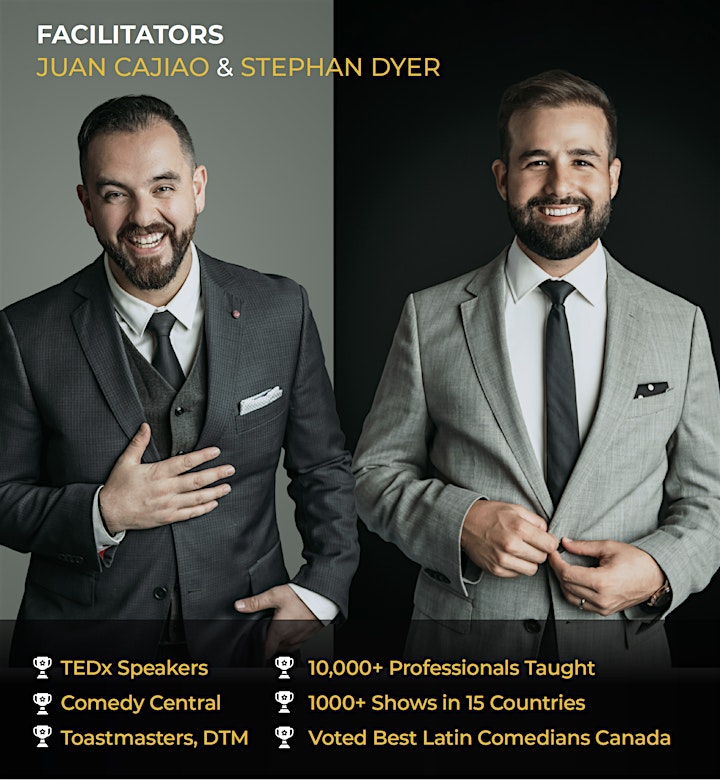 Date and Time
Location
Refund Policy
Contact the organizer to request a refund.
Eventbrite's fee is nonrefundable.