Event Information
Refund policy
Contact the organizer to request a refund.
Eventbrite's fee is nonrefundable.
Explore watercolour through the magic of synthetic paper through this workshop designed for any skill level. Materials available to order.
About this event
Get creative and learn to paint loose and whimsical watercolours! Artist, Colleen Gray is the guest instructor for this unique watercolour workshop. She will teach you how to apply mineral watercolours to synthetic paper and respond spontaneously and intuitively! Her method involves mindfulness and allowing creativity to be a process of discovery and change. The workshop livestream will be held via Zoom, and is limited to 30 students to ensure everyone gets a chance to interact with the instructor and get meaningful feedback. This workshop is an excellent way to develop a loose approach to painting. The learning environment is friendly, respectful, and supportive.
***Please carefully review all information on this page before registering ***
ITINERARY
5:45pm - Video feed link will be posted in the "Online Event Page" (only accessible to registered participants)
5:50pm - Join the session
6:00pm – Workshop begins
9:00pm - Scheduled End Time (may end a bit early or late)
MATERIALS
Using the same materials as the instructor is recommended to help mitigate variables that could impede your results (please note that different papers and paints behave differently enough that they can/will affect the outcome of your painting). Material kits are available for purchase at checkout.
Materials list:
Synthetic Paper (e.g. Yupo paper), 8"x10" (at least two sheets), plus a small piece of synthetic paper to use as a test strip
Separate Palettes or Plates for diluting colours (or you can use a white dish/plate), or use the palette provided in the kit (available for purchase)
Containers for water (have at least 2-4 at the ready)
Paper Towels (or cloth towel or toilet paper to dry and clean off brushes and to soften edges while painting), as well as having several small 3"x3" squares ready (about 2 dozen)
Watercolour Brushes: #10 or #8 Round, #4 Round or #2 Round. You may also want to have a "Mop" brush and a Rigger (but these are not required)
Watercolour Paints (shades of your choice), must be mineral watercolours (Daniel Smith paints are highly advised. These are included in the kit, available for purchase). Colours recommended include: Geothite (Brown Ochre), Burnt Umber, Lunar Black, Quin. Gold, Imperial Purple, Duochrome Hibiscus, Quin. Red, Mayan Blue Genuine.
Tracing items (you can use tracing paper with graphite to transfer, or transfer paper. Alternatively, you could free-hand the drawing, use a light-board or window as a backlit light source).
Hair Dryer
Wax Paper
Cardboard (8"x10"), two pieces
A detailed explanation of how to prepare your materials is provided within the Online Event Page (portal) accessible only to registered participants.
MATERIALS KIT
Below you will find two images. The first is of the paints and paper included in the materials kit, and the second is of the type of effects mineral watercolours have when on synthetic paper. Please note that only the following items are included in the materials kit:
2 Pieces of Synthetic Paper (8"x10"), plus a small piece of synthetic paper to use as a test strip.
5 Mineral Watercolour Paint Chips (Daniel Smith) on Arches Paper (as a palette)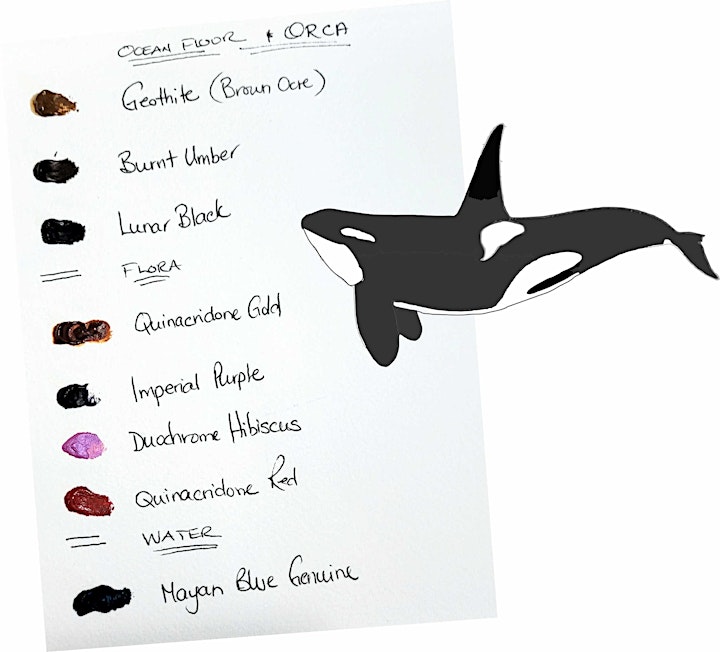 ACCESSING THE EVENT
Access to the event is only possible through Eventbrite itself (using only the email you're registered with). You need to authenticate your ticket in order to access the event's "Online Event Page" within Eventbrite. After you register, you will receive an email from Eventbrite, and in that email there will be an orange button called "View the Event". You must access the event by clicking on that button and allowing Eventbrite to authenticate your email address that you purchased the ticket with (they may ask you to "create an account" if they don't automatically detect your email - please do this as it is the only way you can access the event). If you do not see this email immediately after registering, please check your spam/junk folder. You will get a similar email again 2 hours prior to the event (with the same orange button).
Within the "Online Event Page" you will find the reference image and trace outline for this event. This is also where the Zoom/livestream will be accessible from (but only once it is live - about 10 minutes before the start of the event).
***IMPORTANT***
You are strongly advised to make sure you can access the Online Event Page well in advance of the workshop so you can work out any technical issues, and contact the organizer if you experience problems, so they can be resolved in a timely fashion. Please try it at least 1-2 days before the event itself. Contacting the organizer right before the workshop is about to begin (or has already started) is likely to result in slow or delayed responses. You are responsible for ensuring that you can access the event in advance - no refunds or credit will be provided in lieu for inability to access the event.
Colleen Gray
(Guest Instructor)
I free-paint/free-draw when I work, meaning, I often start with an empty head and paint until something begins to develop, then move forward. I paint from my personal experiences and observations obtained from living Indigenously in the best way I can. I use teachings from numerous First Nations wisdom keepers, ceremonial people, Elders and friends over a span of 30 years. I try to walk the good Red Road well in all things - not an easy task, but very fulfilling.
My great joy and artistic passion lies in ground mineral based water colour on synthetic paper. The sometimes unpredictable effects of this platform excite me and I love teaching others how to enjoy the interactions and then mastering the visually explosive dynamics of minerals and water in paint. It is truly a meditative process that teaches us to slow down, minimize our scope, and focus on the smaller details while enjoying the fascinating interactions.
Many traditional stories and representatives of the spirit world are prominently featured in my work because they live in me and with me every single day. Each drawing takes you on a journey into the visual voice of an ancient time and offers a sense of having learned something new after discovering the interesting stories that accompany the work. At times, I move deeply into the work and teachings, striving to bring forward a whispered bit of wisdom, or a flash of something barely seen in the mind's eye. My work often reflects the state of our only home, the Earth. It echoes the plight of my brothers and sisters who struggle with racism and conflict nearly every single day. We must learn to live together in harmony and without hatred or we will never truly live at all.
My Mission: My humanitarian work through The Art For Aid Project has become a priority for me as an artist hoping to make a difference in Canada's remote Indigenous communities. I want to create a way to ensure that quality art supplies reach remote Indigenous schools, nurture budding artists, create a vehicle for expression and healing, as well as present a way to pass the time in a constructive and healing way. Art is a strong portal where healing and beauty can compliment each other. Art supplies are the wonderful tools of creativity and imagination. I work hard to promote Indigenous art education and public awareness about the issues facing Canada's First Artists.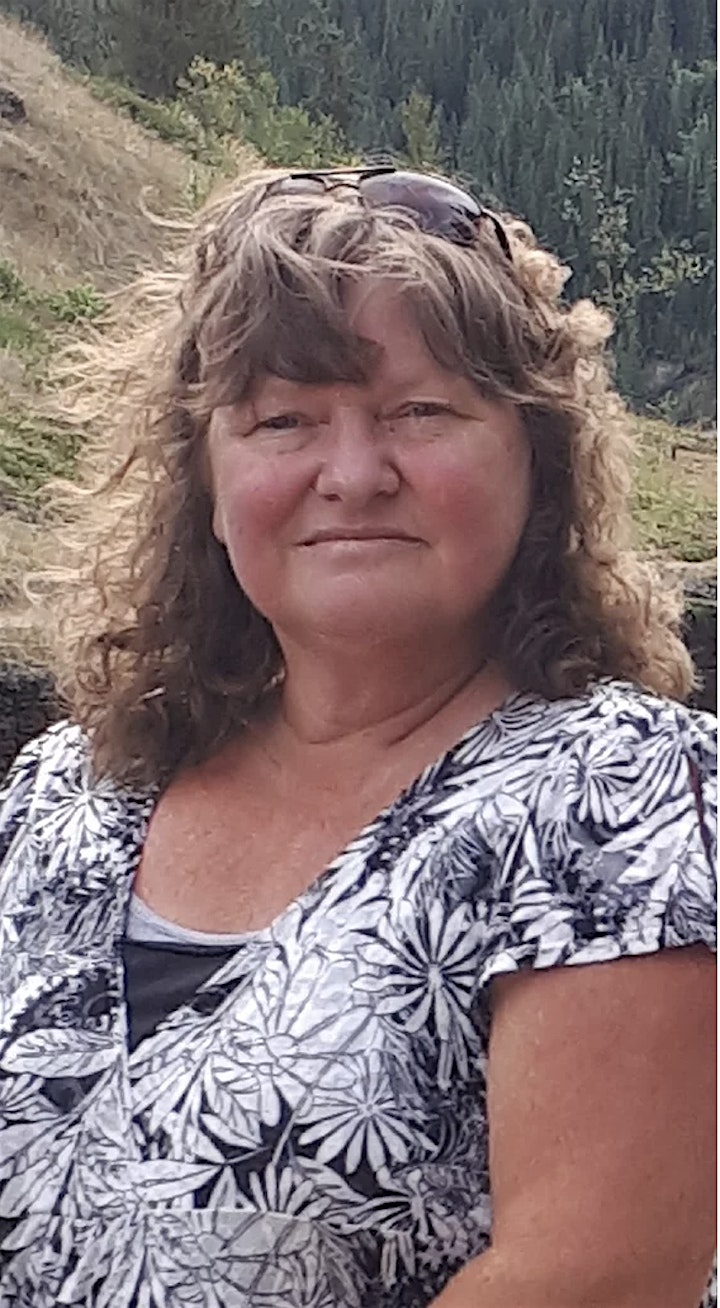 Date and time
Location
Refund policy
Contact the organizer to request a refund.
Eventbrite's fee is nonrefundable.
Organizer of Orca - Watercolour on Synthetic Paper [Level 1]