About this Event
Using the rules from Warhammer 40k Apocalypse, help us share the saga of the mighty Warboss Facestompa as he attempts to seize control of Khepri Prime and gain access to the rare resources that it provides the sector.
Come and play as one of the 10 Ork players, or take on the side of the Imperium, Chaos, and Xenos as they try to stop the Waaagh! before it gains control of one of the most important planets in the sector.
Note: The event price includes lunch and an Orcpocalypse t-shirt, but it does NOT include accommodations. You will need to book those separately by emailing reservations@miniwargaming.com.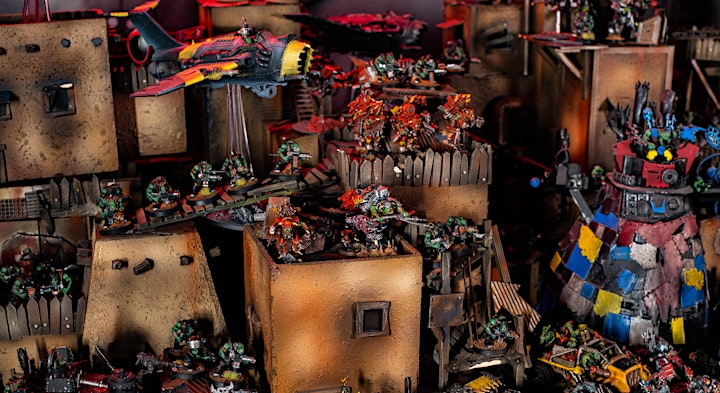 Participant Requirements
Because we want to make this the best narrative experience possible for everyone participating, we have the following requirements:
You must have at least a little experience with the new Warhammer 40k Apocalypse rules. We recommend you play at least a few games before attending this event.
You must be able to field at least 250 power level, and no more than 500 power level.
Your army must be fully painted, including completed bases (a solid colour on the base is not sufficient).
Your army must include models that clearly represent their role and their wargear. Models from other games are only welcome if they clearly match the aesthetic of what they are representing.
If you paint your miniatures to match a particular sub-faction's colour scheme (e.g. Ultramarines) we expect you to use the rules for that sub-faction. If they are painted to a custom colour scheme then you can choose which sub-faction they belong to.
Conversions are more than welcome (and encouraged), but you may want to send us pictures before the event to make sure they follow our guidelines.
You also need to bring a prepared Command Deck as per the Apocalypse rules, as well as dice, measuring tapes, and any other game aids.
A Note on Faction Restrictions
At first we had thought to put all sorts of restrictions in place to ensure that all armies that were fielded looked great and contributed well to the story.
However, after much deliberation, here is what we are going to say (in addition to what was said above):
Your entire army must share one faction keyword (this can be Imperium or Chaos)
Your entire army should feel like it belongs together.
This means that an army that is 10 power Tyranids, 15 power Eldar, 20 power Space Marines, and a Titan would not really work.
If you feel your army follows rule #2 but not rule #1, or that it follows rule #1 but you're not sure if it follows rule #2 then contact us to see if we'll make an exception. We reserve the right to ask you to remove elements of your army if it doesn't look like it belongs.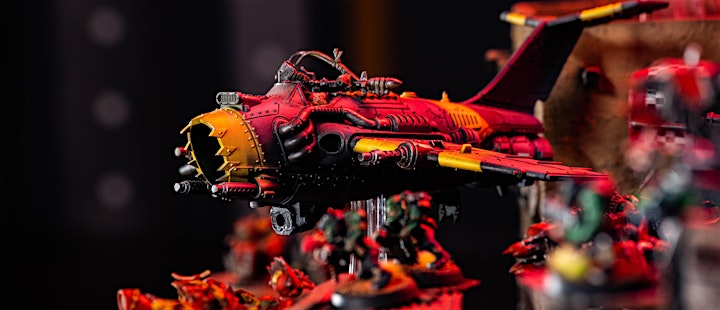 Schedule
Here is a rough outline of the schedule, which is subject to change prior to the event:
Friday
5:00 Registration
6:00 Deployment
7:00 Battle Round 1
10:00 Gaming Hall Closes
Saturday
9:00 Battle Round 2
11:00 Battle Round 3
1:00 Lunch (included)
2:00 Battle Round 4
4:00 Battle Round 5 (if necessary)
6:00 Open Play
10:00 Gaming Hall Closes
Note: If the Battle Rounds take less time then we will just move on and start the next Battle Round. However they will be limited to 2 hours each to ensure that we finish the game.