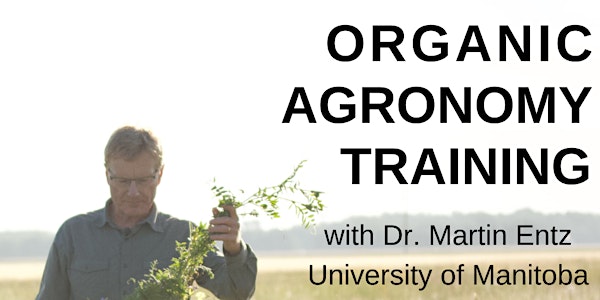 Organic Agronomy Training
This training is intended for private and public sector agrologists and agronomists who want to provide services to organic farmers.
About this event
This 5-part course is taught by Dr. Martin Entz. Martin Entz is a professor in the University Plant Science department at the University of Manitoba. He received his PhD in drought physiology from the University of Saskatchewan in 1988 and worked as a farm manager and research agronomist before embarking on his academic career. "The goal of my program is to discover new ways of farming ecologically; to empower farmers with knowledge to design farming systems adapted to where they live; and to engage students in this exciting process". He leads the Glenlea study – Canada's oldest organic-conventional farming systems comparison study. In 2011, Martin started Canada's first farmer participatory wheat and oat breeding program focused on organic production.
Martin teaches courses in crop production and agroecology, and has supervised 48 MSc and PhD students. He has led agricultural projects in Central America, Zimbabwe, East Africa and North Korea, and is a friend of "Soils, Food and Healthy Communities", an NGO in Malawi. Martin is a member of the "Prairie Food Vision Network", winners of the 2020 Rockefeller Foundation Food Systems Vision Prize.
The training is intended for private and public sector agrologists and agronomists who want to respond to the growing demand from producers for more information about organic grain production. While the course was designed with the Prairies in mind, agronomists in other ecoregions will learn universal principles of organic production. The course will be offered over five 75 minutes live (and recorded) online sessions over two weeks in January 2023. The sessions cover introductory material on:
• Nutrient management in organic cropping systems
• Seeds and seeding systems for organic agriculture
• Insects and disease management in organic agriculture, and
• Improving soil health in organic systems
Agronomists can pose questions throughout the trainings, either live or via email after viewing recorded sessions. Questions will be addressed in the final training on January 13th.
Grain farmers considering a transition to organic or current practitioners who want to learn the theory and latest science will also find the course valuable.
The course is free to all, but registration is required.
CEU credits are available for agronomists.