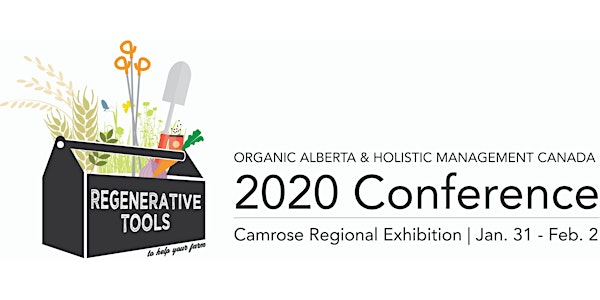 Organic Alberta and Holistic Management Canada 2020 Conference
Regenerative Tools to Help Your Farm
About this event
Join us for this unique opportunity to take in two great conferences in one location! The annual Organic Alberta Conference will take place JANUARY 31 & FEBRUARY 1 and the Holistic Management Canada Conference will be held FEBRUARY 1 & 2 at the Camrose Regional Exhibition in Camrose, AB.
Organizer of Organic Alberta and Holistic Management Canada 2020 Conference
Organic Alberta is a membership driven non-profit association. We represent organics in Alberta and strengthen the organic community through leadership, networking, education, communication and advocacy. Find Organic Alberta at: organicalberta.org, email at: info@organicalberta.org or call: 587-521-2400. 
Holistic Management Canada is a network of Holistic Management Practitioners and Certified Educators. We provide tools to create regenerative landscapes that improve soil health, water infiltration, and ecosystem biodiversity while supporting a growing community of people who are helping others care for our communities and ecosystems. Find us at: www.holisticmanagement.ca, email at: coordinator@holisticmanagement.ca