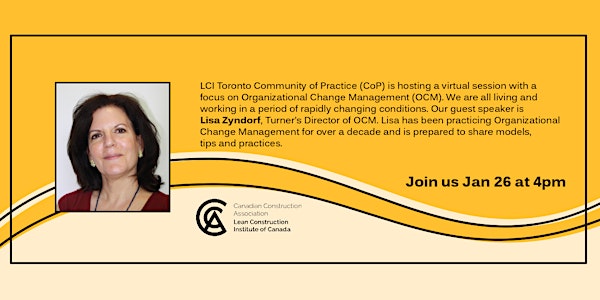 Organizational Change Management (OCM)
Turner Toronto Lean Community of Practice is hosting a virtual session with a focus on Organizational Change Management (OCM) on January 26
About this event
LCI Toronto Community of Practice (CoP) is hosting a virtual session with a focus on Organizational Change Management (OCM) on January 26 at 4 pm.
We are all living and working in a period of rapidly changing conditions. Our guest speaker is Lisa Zyndorf, Turner's Director of OCM.
Lisa has been practicing Organizational Change Management for over a decade and is prepared to share models, tips and practices with us to address:
What are impacts of change and why are they important?
How do we cope, manage and lead when change is required?
Why we should recognize the change around us and its impacts?
How does understanding the typical human responses to change help us be more successful?
How can we get through transitions with less stress?
How can we become more resilient to change?
We hope you can join us, ask questions, and share your experiences.