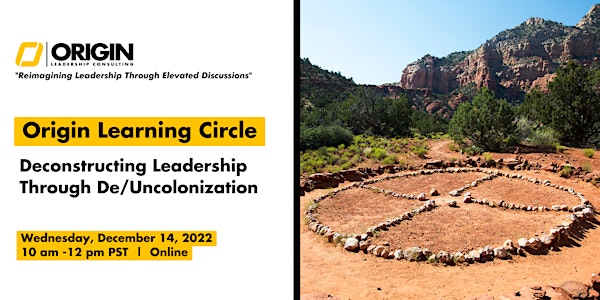 Origin Learning Circle: Deconstructing Leadership Through De/Uncolonization
Reimagining Leadership Through Elevated Discussions
About this event
"I am no longer accepting the things I cannot change. I am changing the things I cannot accept." - Angela Davis
Event Details
Leadership as we know it today is rooted in a colonial ideology where few in positions of power have control over many. Decolonization allows us to re-evaluate our current practices and see leadership through a lens of encouragement, interconnectedness, and respect.
In this learning circle, the hosts will guide attendees through an informal discussion around concepts of deconstructing colonial practices and reconciling the way we think about leaders and leadership.
After brief introductions and a short topic review, hosts will begin the learning circle. Attendees can choose to either join the circle or participate as spectators.
As hosts, we are not coming into this discussion as experts, but instead, we respect that we are all knowledge keepers in our own right and we can continue to learn from each other.
Date: Wednesday, December 14, 2022
Time: 10 am -12 pm (PST) | 1 - 3 pm (EST) | 6 - 8 pm (GMT)
Location: Online (Zoom link will be provided after you register)
Cost: Free
Accessibility: Automated closed captions will be available.
Safe(r) Space: This event aims to be inclusive and welcoming. Harassment and discrimination of any kind will not be tolerated. If an attendee fails to respect these basic rules, they will be asked to leave.
Logistics: If you choose to participate directly in the circle, please note that this session will be recorded and sent to all attendees post-event. We will not share any content on social media without express permission.

Amy Grant identifies as a Pink L'nu - a term she uses to describe her mixed Indigenous and European identity. L'nu translates to Mi'kmaw person, and Pink, symbolizes her red (Mi'kmaw) and white (European) background. She lives by the sacred teaching "M'sit No'kmaq," which loosely translates to "All My Relations," and means that all beings on Mother Earth are seen as Equal. Amy's relations are from the traditional territory of Maqtukwek meaning "great flowing river," in Ktaqmkuk (Corner Brook, NL), but she grew up in Kjipuktuk (Halifax, NS). Over the years, Amy has been on a journey of cultural reclaimation and healing her family's intergenerational trauma, by incorporating traditional practices into her life and learning her native language.
Along her educational journey, Amy obtained a Bachelor of Public Relations (BPR) from Mount Saint Vincent University ('16), and is currently completing a thesis for her Master of Arts in Communications. An important lesson she carries throughout her learning is the value of Etuaptmumk (Two-Eyed Seeing)—a term coined by Mi'kmaw Elder Albert Marshall—and is able to "see from one eye with the strengths of Indigenous knowledge [...] and from the other eye with the strengths of Western knowledge." Amy believes that there is great power in pairing her university experience with Indigenous ways of knowing as part of her own path to decolonizing education.
In her professional life, Amy is the Project Manager at Origin Leadership Consulting, specializing in projects focused on Systems Change and IDEA (Inclusion, Diversity, Equity, and Accessibility). She is responsible for developing and facilitating training programs, assisting with strategic planning, and maintaining client relations.
Susan Namulindwa is the Founder and Executive Director of Africa Trade Desk, the Vice President, Canada with the Canada-Africa Chamber of Business, and Board Chair of the Afro-Canadian Chamber of Commerce. She is a seasoned, client-focused, and results-oriented executive, with a twenty-five-year plus track record of management, mobilizing partners, teams, and stakeholders with often competing interests to solve problems and achieve measurable results.
She has in-depth expertise and knowledge in building team resiliency, leading consultations among diverse stakeholders around the world with reference to agenda setting, strategic vision on sustainable development, inclusive trade, delivering on the new change, project management, and small and medium-sized enterprises.
Susan has longstanding expertise in policy, partnerships, strategy, outreach, communications, as well as being an experienced fundraiser, presenter, and trainer.
Susan is very involved in her community in Canada and Africa, and the broader International African Diaspora through various community development initiatives on gender equality, environment, connectivity, food security, diversity, and inclusion. She is passionate about women and girls' leadership, wellbeing, and development.

Raelene Bergen Harder is the founder of Origin Leadership Consulting, specializing in Restorative Leadership, and Project Consulting, and is an author and speaker in leadership, personal and professional development, and working across cultures.
She has developed youth and adult programs, courses, and workshops for Inuit and First Nations, focusing on students with barriers, disabilities, and capacity-building needs. For 20 years Raelene has worked with individuals and organizations to enhance their People First leadership skills and is passionate about supporting women and youth initiatives.
Raelene holds a Masters degree in Arts in Leadership through Royal Roads University and is certified as a Strategic Intervention Coach. She has also completed Cultural Awareness Training: Indigenous Canada through the University of Alberta, Psychological First Aid, Foundations of Fetal Alcohol Spectrum Disorder (FASD), and Diversity and Inclusion in the Workplace training.
Raelene has an extensive background in strategic planning, research (including organizational surveys, interviews, data checking/dissemination), program development, curriculum design for in-person and fully digital, online programs, project management, facilitation, and has advised executive-level staff on effective communications strategies and tools, as well as overseeing the strategic planning and implementation of internal and external communications and production plans for international, national and provincial level projects.
Raelene regularly consults and coaches organizations on strategic planning, mission, vision and values, project planning, training, and executive leadership development.
We look forward to seeing you soon.
If you have any questions, please email amy@originlc.com