Teaching Dossiers are an important part of an academic job application. Do you know what goes into one and how to make yours stand out?
About this event
Summary:
Have you started looking for an academic position and run into the following statement: "Please send all application materials (cover letter, CV, research statement, teaching dossier) to jane.doe@academia.ca". While many of us have a CV or prepared a cover letter before, a teaching dossier is unique to academic positions. In this interactive workshop, learners will learn about teaching dossiers and their importance and begin to build the components of their own teaching dossier.
Learning objectives:
At the end of this workshop, learners will be able to:
Describe the purpose of a teaching dossier and how it is different from a Resume/CV
Outline the components of a teaching dossier
Identify personal experiences that support their teaching dossier
Identify opportunities at UHN which will support their teaching career
Instructors: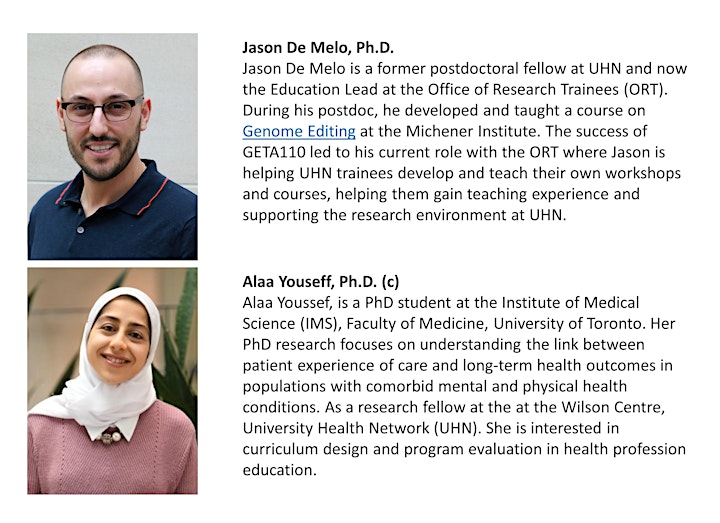 Organizer of ORT Workshop: Academic Teaching Dossiers
UHN's Office of Research Trainees (ORT) mission is to provide UHN trainees - graduate students and postdoctoral fellows - with the highest possible quality training and learning experience through lab integration, achievement recognition and career development – thus enhancing the quality of research at UHN.
For information about the ORT, visit www.uhntrainees.ca!

---
UHN's Office of Research Trainees (ORT)

University Health Network (UHN)
Tel: 416-634-8775
Email: ort.admin@uhnresearch.ca
www.uhntrainees.ca