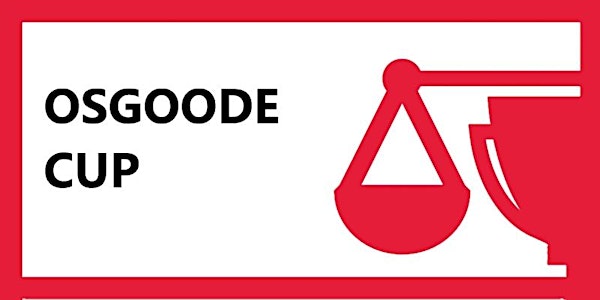 Osgoode Cup 2021
Osgoode Cup 2021
Refund Policy
Contact the organizer to request a refund.
Eventbrite's fee is nonrefundable.
About this event
About this Event:
An Annual Mooting Competition run jointly by the Osgoode Mooting Society and Monkhouse Law
It is intended to introduce undergraduate students to mooting, a form of public speaking common in law school. Held for the first time in 2005, the Osgoode Cup has been going strong since its inception. The tournament takes place virtually.
For the full website, videos of past moots, and other information please see the main website at: http://www.osgoodecup.com/
Qualifications:
While named an Undergraduate moot participation has been broadened to include those who are not legal professionals. In order to compete at the Osgoode Cup both members of each team must:
Currently enrolled at the same Post-Secondary institution (the tournament is a 'championship' between Universities).
Members may be enrolled in any other degree program including diploma, certificate, bachelors, masters or doctorate programs;
Neither member may be a licenced Paralegal;
Neither member may be (or have ever been) enrolled in a Juris Doctor, LL.B. or equivalent program that leads to being licenced as a Lawyer;
Neither member may be a current applicant through the NCA system for transfer of foreign legal credentials or have attended law school outside of Canada.
You MUST compete with a partner. If you arrive to the competition without a partner, you will NOT be refunded and your will NOT be allowed to participate. Any changes regarding partnerships must be communicated to the Osgoode Cup Committee prior to the event.
Note: The organizers are not responsible for checking the qualifications of those who certify that they meet the above criteria. Should a participant believe that another participant does not meet the above they must submit a non-anonymous complaint to andrew@monkhouselaw.com and set out the reason and evidence behind their belief.
Ticket Information
Individual registration is not permitted, please have all information relating to each team member ready upon purchase.
Please note that the Osgoode Cup organizers reserve the right to limit the amount of teams participating from each school. Any school that registers more than six (6) teams may be asked to reduce their teams and refunds will be given to those no longer participating.
The maximum number of teams from any school will not be authorized above 24 teams in any circumstance. If the participants from a school seeking to register over 24 teams cannot work out how the 24 teams will be divided then the organizing committee will make a determination (the determination is highly unlikely to make either side happy, so we strongly recommend working it out internally)
Registration closes February 14, 2021
REFUNDS
Refunds will only be processed up to 30 days before the start of the event. There will be no refunds issued past that time.
ACCESSIBILITY
If you have accessibility needs, please indicate upon registration or email the committee at theosgoodecup@gmail.com
UPDATE:
The 2021 Osgoode Cup case will be Nevsun Resources Ltd. v. Araya, 2020 SCC 5 (CanLII), utilizing the majority and dissent only (the decision of Justice Brown and Rowe dissenting in part is not to be used). The abridged judgment can be found here: Nevsun_Abridged2020 http://osgoodecup.ca/wp-content/uploads/2021/02/Nevsun_Abridged2020.pdf
FAQs
Where can I contact the organizer with any questions?
theosgoodecup@gmail.com