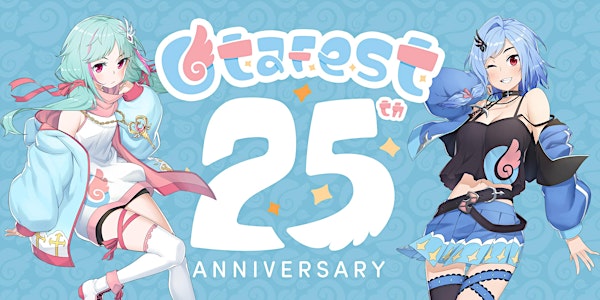 Otafest 2023
Calgary's Japanese pop culture festival. Shop. Cosplay. Games. Anime. Join a community and meet your favorite stars!
When and where
Location
Calgary Telus Convention Centre 120 9 Avenue Southeast Calgary, AB T2G 0P3 Canada
About this event
We can't wait to meet you!
Check out over 100 hours of programming facilitated by fans, members of our community, special guests, and staff, our huge Exhibitor Hall and Artist Alley for amazing art and merchandise, autograph signings, guest meet & greets, concerts, photo booth, video game tournaments, Pokémon league, Maid & Butler Café, and so much more.
Visit our website at www.otafest.com for more information about Otafest - proudly non-profit and fully volunteer run for 25 years!
Frequently Asked Questions
I heard Otafest 2023 will have a Gala, where do I find tickets?
We are working hard on organizing the Gala! Tickets for the Gala will go on sale in late fall/early winter. The Gala is a separately ticketed event so you should still buy your pass to Otafest 2023!
I only want to go to the exhibitor hall / artist alley - do I need to buy a pass?
Yes. Only guests wearing wristbands will be admitted to Otafest rooms and halls, including our exhibitor hall and artist alley.
Why do you ask for my age, gender, etc. when I buy my tickets?
Your demographic information is anonymized and used purely for statistical purposes. We want to have a good idea of our festival's demographics, we use this information to approach potential sponsors and improve future events. 
I've bought my tickets online, now what?
You will get an e-mail with your tickets. Either print them out or save them to your mobile device and bring them to our pre-registration pickup event or the pre-registration desk at Otafest to pick up your wristband.  If you didn't get the e-mail, check your spam folder, then e-mail registration@otafest.com and we will help you out!
Can my mom/sister/friend pick up my wristband for me?
No. You must pick up your own wristband.
What is your autograph policy / Can I bring multiple items to get signed / Are there autograph fees?
Our full autograph policy can be found at https://otafest.com/#policies-autographs
What's your refund policy?
Due to the nature of the event, Otafest tickets are non-refundable.
Questions
If you have any further questions, we welcome you to e-mail us at info@otafest.com and we will do everything we can to make your experience great!