Description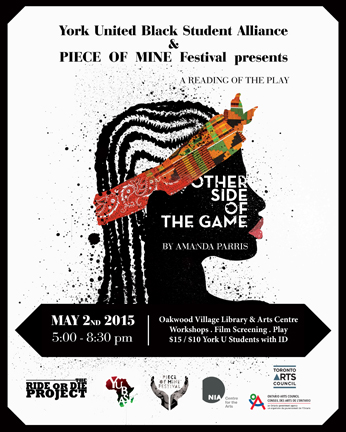 York United Black Student Alliance (Y.U.B.S.A) & PIECE OF MINE Festival present Other Side of the Game, in collaboration with The Ride or Die Project and the Nia Centre for the Arts. With an incredible mix of organizations, this event is bound to uplift, unpack, and enrich!
Playwright, actress and educator, Amanda Parris shares her third-draft reading of Other Side of the Game. The play explores the idea of being ride-or-die as a phenomenon that has transcended time, where loyalty is not only devoted to intimate partners but also to families, friends, communities and even to political movements; recognizing that though the recipient may change, the patterns of self-effacement are consistently applied. This new draft will showcase a gifted, all-female cast.
Opening for the play will be a screening of the trailer From Slaveships to Relationships by Chevy X, followed by an audience discussion.
Schedule
5:00 PM - Doors open
5:30 - 6:30 - Screening of From Slaveships to Relationships trailer + discussion
7:00-8:30 - Reading of Other Side of the Game
Tickets
$15, general admission
$10 tickets are available to York University students with valid I.D.
Group rates are available for groups of 3 or more - $10/per person
*The venue is wheelchair accessible
**Limited library parking is available
***Keep in the loop with news about this event & more by following the PIECE OF MINE Festival's Facebook page.