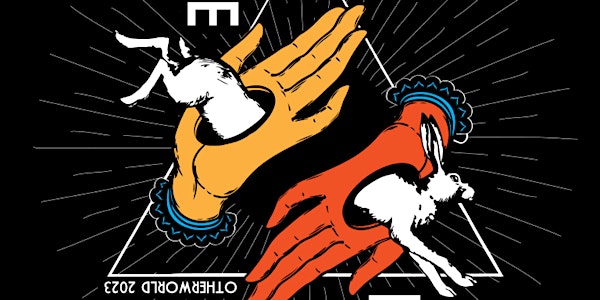 Otherworld 2023: Upside Down
Kindle Arts Society's annual summer event
Date and time
June 8 · 10am - June 12 · 6pm PDT
Location
Laketown Ranch Music & Recreation Park - NorthLake 648 - 8811 Youbou Road Lake Cowichan, BC V0R 2G1 Canada
Refund Policy
Contact the organizer to request a refund.
Eventbrite's fee is nonrefundable.
About this event
4 days 8 hours

Mobile eTicket
If you have a code/directed ticket, click on tickets button and enter your code by clicking on the words "Promo"
If you do not have a code or directed ticket, when refunded tickets are processed, they may appear for sale here. Check periodically and perhaps you will be able to purchase a general admission ticket.
It is possible to get directed ticket codes to purchase a reserved ticket for bringing art or for volunteering for certain roles.
Volunteer here.
Register art here.
Contact us at tickets@kindlearts.ca if you cannot find your code or have issues or ticket inquires these page does not answer.
General Sales are Full
The most surefire way to purchase a ticket is actually through directed tickets by volunteering for the Fire Perimeter, Rangers, or Gate team, or by joining an existing art project with directed tickets that can use additional help.
Most of the attendees (more than 2/3rds) at Otherworld are volunteers, so the offer of taking a volunteer shift to receive a code to unlock a directed ticket for you really is the most certain way to receive a ticket, and come with great perks.
You can also email info@kindlearts.ca if you are having trouble signing up as a volunteer.
Volunteer here.
Otherwise, keep returning to the event page and checking for tickets. Periodically, as we process refunds, some become available, or return during the OMG last minute sale (date announced after May 15th).
Please note: scammers often target sold out EventBrite events claiming to have tickets to resell on Facebook. If someone offers you tickets for sale and it's someone you don't know, be cautious. Why are they reselling a ticket they could just refund? Contact us at tickets@kindlearts.ca if you feel something is off.
Welcome to Otherworld 2023
Welcome! We're excited to return to events this year!
Theme in 2023
Upside Down
Submerge yourself in inspiring installations, interactivity, get your moves on to music, reconnect with the creative community, recalibrate your costumes–practice walking on your hands and get ready to be Upside Down!
Join us once again at Laketown Ranch for a world like no other; OtherWorld.
About The Event
The purpose of KindleArts Society, the Non-profit Society organizing the OtherWorld event, is to nurture creativity in everyone and to help kindle it into a fire of artistic self-expression.
OtherWorld is an outdoor event, and a temporary gallery where everyone can display work in all forms of media, including visual arts (painting, sculpture, interactive technology installations), gifts of food, performance arts (music, theatre, burlesque), dance and fire arts.
It respects contributions of all kinds and styles, from the weird to the wonderful. Nothing is too strange to show here!
It is often said there are no attendees, only participants. Every person who comes volunteers in some capacity, in some way, to create the experience, whether through the art they share, through helping one of the volunteer departments, the performances they give, the things they build and the presence and gifts they share.
OtherWorld is an event held in accordance with the 10 principles, and with our social goals of promoting self-expression, participation, accountability, respect and consent.
There are no ins and outs and the only supplies on site will be ice. Come prepared for a multiday event! There are no vendors selling food or drinks.
Contact otherworld@kindlearts.ca for questions.
Otherworld First Timer Group on Facebook
Accessibility
OtherWorld strives to be an accessible event, including for operation of wheelchairs or other mobility or medical aids and caregivers. If you have unique needs or questions, contact us at tickets@kindlearts.ca
About Directed Tickets
There are a limited number of tickets reserved for past attendees, current volunteers, and people bringing art or helping construct the event in some fashion.
Please email tickets@kindlearts.ca if you encounter ticketing issues with unlocking tickets, or if you should have received a reserved ticket email but haven't yet.
Volunteers can contact their team lead for directed ticket info.
Low Income Subsidy Application Waitlist
Art Registration (Directed Ticket Info)
2022 volunteers not volunteering this year or bringing art and who haven't received their membership code yet, please check your spam filter and contact tickets@kindlearts.ca.
If you have a membership or directed ticket code, you may purchase your tickets now.
Contact us at tickets@kindlearts.ca if you would like to volunteer or have other questions.
About Youth
OtherWorld hosts a wide range of expression, including content that is entirely family friendly, and content that is only appropriate for adults. There will also be reserved camp areas expressly for families with children that you may opt to camp in.
In 2019, there were 65 attendees under the age of 12, and many members brought or contributed things to delight people young and old. There were also adult only areas. There will be some level of nudity at various times, including during some of burn events.
As a parent or guardian, you'll be provided with a map of the location of areas that are adult oriented or adult only and it would be your responsibility to manage access to those areas.
About the organizer
We believe that all people have an innate need to create. Our vision is a world without barriers to creative self-expression, where everyone feels empowered to create art. We exist to make the creation of art more accessible to our members and the greater community. We put on events in part to showcase that art, and to raise funds for the creation of art.