Description
Learn to ride!
You asked we listened. We have had many requests to bring back our women-only motorcycle course. You will learn from some of our best instructors to help you feed confident and comfortable while you have a blast learning to ride one of our motorcycles!
Come join us for this special grand opening. A course tailored just for you, women only!
When you graduate, you'll earn a Canada Safety Council Certificate to show off to all your friends and family, so that no one will doubt your awesome new motorcycle riding skills.
The course includes a 3 hour evening lecture (Wednesday) on July 5th 6:30pm-9:30 pm (this part will be co-ed and combined with another friendly group of students).

Then you'll spend 2 full days on one of our motorcycles on July 8 + 9 (Saturday & Sunday) from 7:45 am - 4:30 pm. Make sure to bring plenty of water and comfortable boots.

At the end of the two days of training, there will be a test to upgrade your license from an M1 to M2.
Q: I don't know anything about motorcycles, what do I need to get ready?
A: We can take students that don't know a single thing about motorcycles. But you'll need a valid M1 license before the lecture evening.
You'll also need to bring your own equipment (helmet, jacket, boots, pants, and gloves). Gear can be in any style you want, as long as the equipment passes our safety requirements. Don't worry, we'll check your gear on Wednesday night before the lecture starts. So make sure to bring it out with you.
Q: Where is the course taking place?
A: The Wednesday night lecture is held at 301 Moodie Dr., Ottawa ON
Please arrive 15 minutes early on Wednesday so that we can check your riding gear to make sure it's safe to use. In case it doesn't pass our requirement (see link above), you'll have a few days to get the gear that you need.

On the weekend, the riding portion will take place at the General Dynamics Canada parking lot, which is at 1941 Robertson Rd.
Q: Are any men going to be around, or is this really only for women?
A: The Wednesday night lecture will be co-ed. But Saturday and Sunday is for you, female students only! Some of our instructors for the day might be men, but we guarantee there will be a female instructor with your group. The point is, you'll be in good hands, learning how to ride with like-minded peers, and ladies, this course is a blast!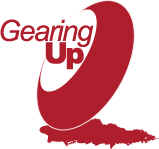 Our flagship training program is the Gearing Up – M1 Exit course, a national program developed by the Canada Safety Council. Gearing Up is a recognized safety program under the graduated licensing system of the Ontario Ministry of Transport.
Gearing Up is for novice riders or riders who need a skills tune-up. Beginners learn to ride and pass their Road Test, while riders with some experience receive coaching to improve skills and knowledge. Riders of all skill levels take the same test.
The course consists of a three-hour interactive classroom safety lecture, a written test, two days of hands-on riding instruction and practice, and a skills test. We provide the motorcycle for your riding, and you get exclusive use of it for the weekend. You must supply your own gear. The course is intensive and requires physical activity. Riding practice takes place rain or shine.
We teach the course over a single calendar week. The safety lecture is on a Wednesday evening and the hands-on riding is all day Saturday and all day Sunday. The skills test takes place at the end of the Sunday afternoon.
If you are unsuccessful during the skills test your instructors will recommend one of two courses of action: retest or retrain.
Your instructor is invested in your success and will recommend the option that will offer you the greatest chance of certification.
FAQ:
You will need an M1 license prior to the start of our M1X course
Your M1 license expires after 90 days! If you want to upgrade your license to an M2, don't let your M1 expire.
There is a 60 day waiting period after obtaining your M1 before you can upgrade to your M2.
You can take our M1X-Gearing Up course prior to the 60 days waiting period with your valid M1.
We will update the ministry the results of your testing.
If you pass the testing: AFTER 60 days from obtaining your M1, you can go to a DRIVE TEST CENTRE (not a Service Ontario Centre), with a valid piece of ID and they will upgrade your M1 to an M2. Make sure you do this before your M1 expires after 90 days!
More details regarding getting your license from the ministry.
-----------------------------------------------------------
FAQs
How can I contact the organizer with any questions?
https://ottawasafetycouncil.ca/contact/
613-238-1513
What's the refund policy?
https://ottawasafetycouncil.ca/cancellation-policy/