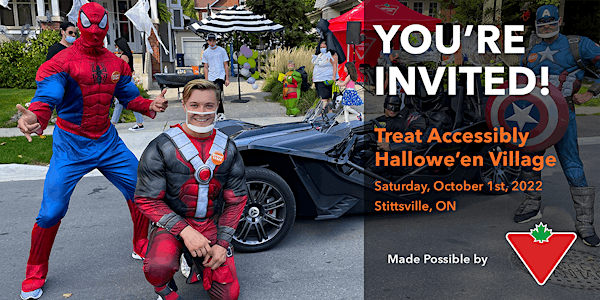 Multiple dates
Ottawa Treat Accessibly Hallowe'en Village Made Possible by Canadian Tire
JOIN US IN HELPING CREATE A HAPPY HALLOWE'EN FOR EVERYBODY
Date and time
Saturday, October 1, 2022 · 1:30 - 6:30pm EDT
Location
Baywood Drive between Brightside Avenue and James Lewis Avenue Baywood Drive Ottawa, ON K2S 2G2 Canada
About this event
The Treat Accessibly Hallowe'en Village Experience is made possible with the support of:
From our family to yours, with the support of Canadian Tire and your local RE/MAX offices, we would like to invite your family to an early Hallowe'en experience with the goal to have fun and inspire accessible change across Canada.
Our family created the Treat Accessibly grassroots movement to help encourage homeowners, across Canada, to Trick-or-Treat from their driveways to show support for their neighbours with children with mobility, sensory or intellectual disabilities and to give all families a way to start opening their minds by thinking accessibly on Hallowe'en and beyond.
We started with one Treat Accessibly lawn sign at our home on Hallowe'en 2017. In 2021, over 100,000 homes displayed our FREE lawn signs and we executed the first-ever Treat Accessibly Hallowe'en Village event in Toronto. So many people came to the event, that Canadian Tire is helping us have 7 more events this year.
With the support of up to 30 homeowners, on one street in your city, we will be creating an inclusive Accessible Trick-or-Treating experience to be shared with the families of Variety Village and families from the neighbouring area.
Our goal is to create a fun Hallowe'en experience-to-remember for those attending and to capture the memories and idea on video to then share, on social, with homeowners across Canada to demonstrate an Accessible and Inclusive Hallowe'en is the best kind of Hallowe'en for everyBODY every year.
Please join us by registering for your tickets today. Space is limited and only those registered will be admitted.
Our goal is to create a fun and safe experience. Pre-registering permits us to maintain a hard cap on the number of attendees on site at a time.
We warmly encourage parents to get in on the fun too and join their kids by wearing costumes for the event.
During registration, please choose the 1-hour time-slot that best suits your family. Space is limited. Once a time-slot hits capacity it will no longer be available to register for. We kindly ask if you have older children, please register for the later time-slots so the really young ones may get home early.
In addition to accessible Trick-or-Treating at up to 30 homes, for both edible and non-edible treats, kids and families will enjoy Magicians, a DJ and variety of costumed entertainers.
Hope to see you there and Happy Hallowe'en everyBODY.
Rich Padulo
Founder, Treat Accessibly