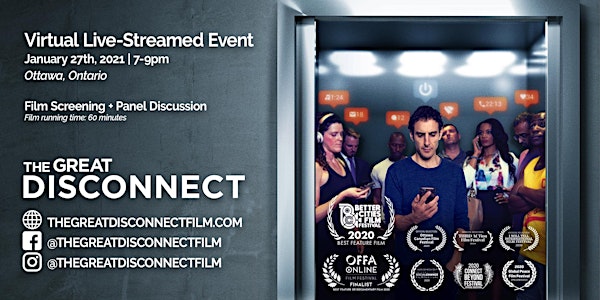 Ottawa Virtual Screening of The Award Winning Film - The Great Disconnect
Virtual Screening of the Award Winning Film The Great Disconnect-January 27th, 7-9pm with panel discussion to follow - Doors open at 6:45.
About this event
We invite you to an impactful event on Wednesday January 27th from 6:45-9pm that will enage citizens on the importance of social connections, neighbourly ties and supporting local - with the goal of strengthening community wellbeing throughout our great city of Ottawa.
Watch the trailer here to get a glimpse: https://vimeo.com/swmedia/tgdisconnect
The event which will occur through Zoom will be followed by a very engaging moderated panel discussion that will include two of the filmmakers and Ottawa residents Tamer Soliman (Director, Producer, Co-writer) and Sarah Douglas (Writer, Story-Editor) as well as the following experts:
Rosaline Hill, an award winning architect, planning consultant and founder of Walkable Ottawa. Learn more about Rosaline here
&
Manjit Basi, a coach, advisor, learning facilitator, self described "shift disturber" and co-founder of Synapcity. Learn more about Manjit here.
The panel will be moderated by:
Monique Fuller, a community organizer, art programmer, radio host of CKCU's A Luta Continua and co-founder of OBAK, a local art collective.
&
Élisabeth Bruins, the Community and Youth Engagement Officer at the The Mauril-Bélanger Social Innovation Workshop.
This event is a launchpad for gaining a greater understanding of how we can make our communities, neighbourhoods and cities happier places to live, work and co-exist. It can also provide an important, timely opportunity to re-engage citizens after a year that saw many people experience social isolation and disconnection.
Virtual doors open at 6:45.
About the Film
The Great Disconnect uncovers why, in a world seemingly more connected than ever before, people are feeling more and more socially isolated – and the true cost this has on our lives and communities. This documentary invites us to reflect on the relationships we have with those around us and raises the question: is it possible to overcome our modern culture of disconnectedness and rediscover how truly essential we are to one other?
Watch the trailer here to get a glimpse: https://vimeo.com/swmedia/tgdisconnect
Since its official launch in October 2019, the film has screened across Canada through multiple municipalities, non-profits and NGOs, and has been shown in ten countries across Europe. It has also been featured in over twelve independent film festivals, and in October 2020, the documentary won the award for Best Feature Film at the prominent Better Cities Film Festival. The judges' panel included the famous architect Jan Gehl alongside other esteemed architects and urbanists.
Contact us at Tamer@tamersoliman.com for any inquiries or questions.
Event intentions:
Heighten citizens' awareness of the existence of social isolation, loneliness and disconnection - as well as the impacts it has on our mental and physical health, a growing public health issue.
Help citizens draw links between city design, technology and hyper-individualism, and how they influence our neighbourhoods and communities.
Share simple and effective call-to-actions that can help citizens strengthen their social connections, neighbourhoods and communities - not just for their own benefit but for the benefit of our city as a whole.
Provide the people of Ottawa to connect with one another, in a safe way, and become more collectively engaged citizens!
Based on the initial sponsorship, outreach and the films high production value, we expect a great turnout.
Please make sure you register to reserve your virtual seat!