Sales Have Ended
Registrations are closed
Tickets are no longer available for the Our Climate Our Arctic 2021 Conference. But if you are still interested in finding out more about getting involved in your community, or about climate change please connect our Students on Ice Facebook page, or reach out to Education@studentsonice.com
Sales Have Ended
Registrations are closed
Tickets are no longer available for the Our Climate Our Arctic 2021 Conference. But if you are still interested in finding out more about getting involved in your community, or about climate change please connect our Students on Ice Facebook page, or reach out to Education@studentsonice.com
Learn about the climate challenges facing the Arctic, and see how all youth can get involved in making a difference in their communities.
About this Event
Our Climate Our Arctic was created in 2020 by a group of northern youth in Inuvik, NWT through the Students on Ice Expedition to Community program. The 3-day conference was initially designed to be a regional event – talking about climate change and climate mitigation in the Beaufort Delta region – but quickly received attention and interest from across Canada's North.
The 2021 Our Climate Our Arctic Conference will bring together community members, youth, and researchers from across Inuit Nunangat. Using regional challenges with climate change as a base, we aim to discover what is happening across our Arctic through a series of discussions and workshops and will brainstorm immediate, short, and longterm actionable ideas.
Stay tuned as we roll out details about our speakers, the communities we will be broadcasting from, and ways that we are challenging youth to get involved in their community.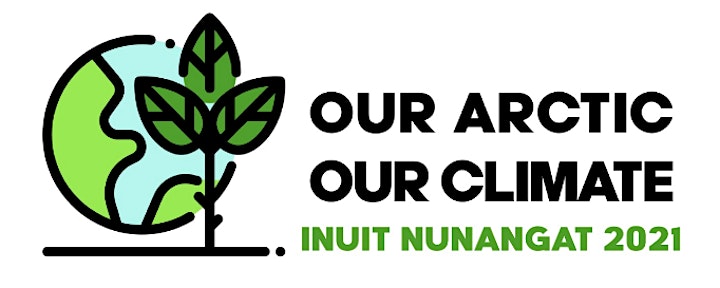 The Our Climate Our Arctic conference will be held from March 19th through March 21st 2021. We will be live streaming the event from several northern communities through an Eventmobi live platform. As we get closer to the date we will make the program schedule available.
We hope to inspire youth to start thinking about their roles as leaders in climate change and advocacy for climate awareness. For those who are already active, we hope to give you a platform to share your voice on climate.
We want to consider the intersectionality of race, environment, social justice and climate, and advocate to be heard on the need to focus in how intersectionality means being heard across these spaces and not just within one of them.
We will have ways for you to submit videos and content about climate change in your community, and tell us about what that means for you.
There will be ways to get involved in your community in person or digitally to make a difference.
Here is our schedule
Friday March 19th
Join us as we livestream Climate Action Inuvik's Friday March
*Show your support and take a stand again climate justice.
This event will be streaming live on the Students on Ice Facebook Page - Check it out here!
Saturday March 20th
Session # 1
Stories from the Land with Elders from across Inuit Nunangat
Session # 2
Making a difference in your community with SmartICE and SOI's Blue Futures Pathways Team
Sunday March 21st
Session # 3
Explore the impacts of climate change across the arctic from research, to community engagement to youth advocacy.
Session# 4
Special Youth Changemaker Series
Join youth across Inuit Nunangat and the rest of Canada and the world as they create dialogue brainstorm options, and consider what individual and collective change can be!
Join for Free and get a free conference shirt!
Can't wait to see you online
The Our Climate Our Arctic Organizing Committee