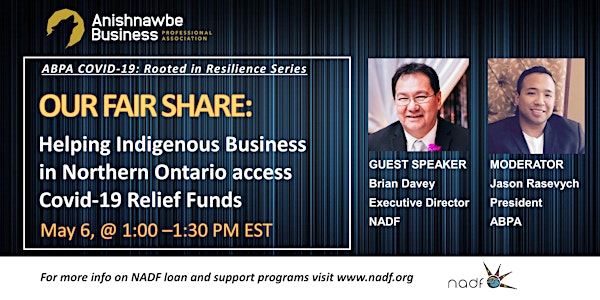 OUR FAIR SHARE: Helping Indigenous Business Access COVID-19 Relief Funds
Our fair share - Our goal is to educate and guide First Nation communities and entrepreneurs to access COVID-19 stimulus programs and loans.
About this event
Join the ABPA on Wednesday, May 6th for a 30 minute discussion on Navigating Government Funding for Indigenous Business during COVID-19
About this Event
Join the Anishnawbe Business Professional Association from 1:00 p.m. to 1:30 p.m. on Wednesday, May 6 for a 30-minute discussion (Webinar) about navigating Federal Government funding for Indigenous Business in Northern Ontario during COVID-19.
This conversation about the recent federal government announcement of $306 million to support indigenous business during the pandemic. The session will provide information on the emergency loan programs, eligibilty criteria and how to apply. We are delighted to be joined by Brian Davey, the executive director of NADF.
First Nations communities, Tribal Councils, Indigenous Organizations and Indigenous businesses from all sectors are encouraged to attend!
WHAT: Our Fair Share: Helping Indigenous Business in Northern Ontario Access Covid-19 Relief Funds
WHEN: Wednesday, May 6th from 1:00 PM – 1:30 PM EST
WHO: ABPA, MEMBERS AND NON-MEMBERS
WHERE: Online via Zoom and Teleconference
We look forward to having you and your colleagues join us for an insightful and important discussion.